Natural Resources Minister Raphael Trotman has once again been elected leader of the Alliance For Change (AFC) party after a close contest today that he won by two votes over the incumbent, Public Security Minister Khemraj Ramjattan.
In a post on his Facebook page, Prime Minister Moses Nagamootoo said the vote was 127 to 125 in favour of Trotman, after votes were tallied at the party's 5th Biennial National Conference at the Vreed-en-Hoop Primary School.
Trotman, who co-founded the party in 2005 with Ramjattan and the late Sheila Holder, had said last week that he was available to serve if nominated.
Nagamootoo, who declined nominations for the top party posts, also reported that Ramjattan was declared party Chairman, unopposed, after Public Communications Minister Cathy Hughes declined to contest for the position.
A press release from the AFC follows:
The Alliance For Change announces the results of the party's leadership elections held today as part of the National Conference at the Vreed-en-Hoop Primary School, West Bank Demerara, Region 3.
LEADER
Raphael Trotman​127 votes – declared winner
Khemraj Ramjattan​125 votes
Spoilt ballots​​4
CHAIRPERSON
Three persons were originally slated to contest this position – Mr. Raphael Trotman, Mr. Khemraj Ramjattan and Mrs. Cathy Hughes.
Mr. Ramjattan was declared Chairman after Mr. Trotman won the elections for Leader and the third candidate Mrs. Hughes withdrew her candidacy.
VICE CHAIRPERSON
Cathy Hughes​​​116 votes – declared winner
Valerie Garrido-Lowe​​76 votes
Audwin Rutherford​​47 votes
Spoilt ballots​​​4
GENERAL SECRETARY
Marlon Williams​​125 votes – declared winner
David Patterson​​83 votes
Michael Carrington​​12 votes
Spoilt ballots​​​2
The results of the election for members of National Executive Committee will be announced subsequently once the voting and counting process are completed.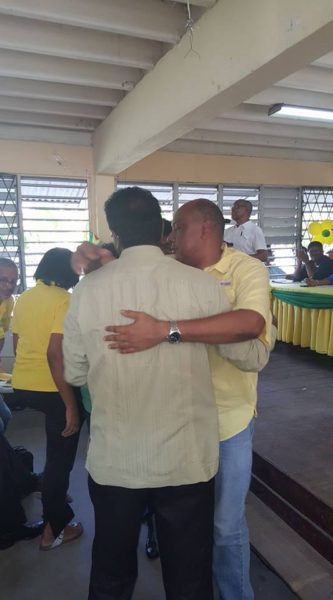 New leader Raphael Trotman (at right) and his predecessor Khemraj Ramjattan embrace after the vote. (Photo taken from Moses Nagamootoo's Facebook page)
Comments

Finally honouring a court decision, the New Building Society (NBS) yesterday afternoon wrote a $59,033,000 cheque to former manager Maurice Arjoon for pension owed, after his lawyers attempted to levy on the assets of the bank, which then locked the doors of its Avenue of the Republic headquarters with customers and others inside.

A Diamond resident was yesterday remanded to prison after being charged with the death of Ishwar Ramanah, the Kaneville machine operator who was fatally shot during a robbery at his home last month.

A Sisters Village shop owner and his wife were seriously injured on Monday evening when they were attacked by cutlass-wielding bandits, who robbed them of the day's sales.

Although the Government of Guyana has paid more than $26 million for the Commission of Inquiry (CoI) into the education system, its final report has not been submitted after nearly two years.

Two children were rescued on Monday night by a neighbour after a fire ripped through the top flat of their home at Unity, Mahaica, East Coast Demerara.