Efforts to `green' Guyana will accelerate in the new year  focusing on economic diversification, empowerment at the community level and renewable energy, President David Granger said, even as he stressed government's commitment to ensuring a better life for all Guyanese.
"We look forward to a happy year as we continue to move purposefully along the path towards the establishment of a 'green state'. This new year will witness the acceleration of the transition towards improvements in our citizens' quality of life," Granger said in his New Year's message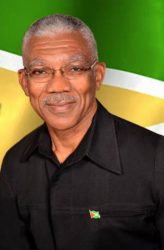 The 'green state', he said will see more being done to adopt the use of renewable energy. He said government is drafting a comprehensive, clean energy plan to guide the country's transition to sustainable energy generation.
The plan, Granger noted, will enable the country to receive renewable and reliable energy at a reduced cost for households, industries and hinterland communities. It will remove dependence on imported fossil fuels, resulting in foreign exchange savings and insulate the economy from the impact of rising petroleum prices.
The green state, he said also involves empowering local communities in order to generate employment at the grassroots level – particularly for women and youth. "The development of renewable sources of electricity generation – from biomass, hydro, solar and wind power – will provide employment for thousands of skilled, semi-skilled and unskilled persons," he said adding that the industries spawned by these sectors will multiply job opportunities.
Solar energy systems, Granger said will be installed in more public buildings and in hinterland communities. He announced government's recommitment to pursuing a low-carbon, low-emission path to economic development.
The green state will also promote the protection of our natural environment by the conservation of our fauna and flora.  Every region will be required to provide for protected areas, conservation parks, reserves and sanctuaries to protect our wildlife, he said, adding that government will identify an additional two million hectares of territory for conservation.
The green state, in 2017 will become an engine of economic diversification, Granger said, adding that the flora and fauna and luxuriant natural vegetation – the coastal lowlands, the highlands, the grasslands, the wetlands, the sand belt, the lakes, rivers, rapids and magnificent waterfalls and the evergreen, montane and rain forests, will further catalyse our eco-tourism and eco-education sectors by emphasising our biodiversity.
"Diversification will support industrial enterprises and sustain livelihoods by suppressing the impact of exogenous shocks and by opening new investment and employment opportunities," he said, adding that the establishment of a green state will reduce the impact of the economic and environmental shocks which have retarded the country's development. The green state will reduce the country's carbon footprint and diversify our economic base and promote increased value-added production, he added.
According to Granger, the green state will demand that we strengthen our efforts in science and technology education and quicken the adoption of information and communication technology. ICT will facilitate greater connectivity between the coastland and hinterland, stimulate the services sector, improve the delivery of public services and enhance the competitiveness of our economy.
Reflecting on 2016, Granger there were improvements in some areas and the 50th anniversary celebrations brought national pride.
He said public trust was enhanced when, for the first time since 1994, communities were re-empowered to elect councillors in local government elections. "Residents were happy that we established three new towns in the hinterland – at Bartica, Lethem and Mabaruma – to stimulate development away from the coastland," he said, adding that freely elected councils and local democracy will strengthen communities which are the bases for richer regions and a prosperous country.
Public safety, he said was also improved in 2016. "We have seen the clearest sign, also, that the unlawful and unreasonable claims to our country's territory will be set on a definite course for settlement at the end of this New Year. Our vigilance to protect our people and our patrimony against all threats to our territory will not be diminished," he stressed.
"We belong to a beautiful, blissful, bountiful country that possesses abundant natural resources. We must care these resources. We must conserve their use for the benefit of present and future generations. The people of our great country can look forward to the new year with hope," he said.
Around the Web