The body of Surujpaul Dindyal, who died after he was struck down by a car earlier this month, will be exhumed and examined since it was mistakenly buried along with four others that were unclaimed and subjected to 'poor burial'.
Dindyal, called "Boy" or "Go Go man", 43, a fisherman and father of two of Melanie Damishana, East Coast Demerara (ECD) died on December 9, after he was struck down along the public road at Buxton, ECD.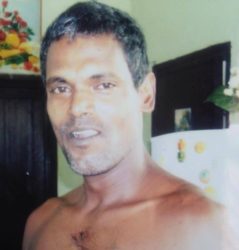 Dindyal was rushed to the Georgetown Public Hospital by the police where he was pronounced dead on arrival. The driver of the motor car, PVV 4355, and another person Emily Persaud, 17, of Annandale, also sustained injuries and were hospitalised following the incident.
The police in a press release had said that enquiries disclosed that motorcar PVV 4355 was travelling west along the southern side of the road. It was claimed that the driver observed two other cars, which were proceeding in the opposite direction, drive into his lane, which forced him to swerve. As a result, he collided with Dindyal, who was walking on the southern parapet.
The driver was subjected to a breathalyzer test which revealed that he was over the legal alcohol limit.
Dindyal was unidentified at the time of the incident, because his wife and family were unaware of his death since they thought that he was at sea.
Dindyal's wife, Karan Bisal told this newspaper that she last saw her husband alive on December 8 when he left home in search of a job. "He does go sea and come back. He leff home saying he going and see fuh wuk so after we see he ain't come back we seh he mussy get a lil wuk and gone sea and he will come back in couple days," Bisal said.
However, as the days went by and Dindyal did not return home, his family became worried and began to search for him.
On December 15, Bisal said, she went to the Vigilance Police Station to make a missing person's report. One week later, after not hearing anything from the police, she decided to place a missing person's advertisement on television.
She said that after she placed the ad, a police officer saw it and invited her to visit the station. "He [the officer] tell me that he see the ad on the TV and he decide to call me because they have an unidentified person who was involved in an accident," Bisal explained. She said the officer then showed her a photograph of the unidentified person on his cell phone, and she positively identified the man as Dindyal. This, according to her, was due to a tattoo on his hand and the clothes he was wearing.
That same day they went to the Georgetown Public Hospital mortuary in order to identify her husband, but the mortuary employees could not find Dindyal's body. "The mortuary don't have records that they had the body," she related, "but the Emergency Unit where he was taken following the accident and pronounced dead, had records that he was taken there by the police and he died."
Following this she returned to the police, but claimed they pushed her around until the Criminal Investigations Department (CID) intervened in the matter. "Is till CID come in this thing then the mortuary and the hospital employees admitted that the following day after the accident they did poor burial for five individuals who were described as destitute," she said. Dindyal's remains were among them.
Bisal expressed her dissatisfaction with the entire incident. "They saying it was a mistake and they were afraid to talk first, but I don't think so. There is more to it and I need answers," she said.
All five bodies will now have to be exhumed so that Dindyal can be formally identified by his family and given a proper burial.
When contacted yesterday, Commander of 'C' Division Marlon Chapman confirmed that the five bodies will be exhumed but was unable to give a date. However, Bisal said she was informed by the police that it will be done on Tuesday.
The driver of the car was charged with driving under the influence. He could not face additional charges in relation to Dindyal's death since the body could not be located.
The family is determined to have the exhumation done so that they will not only get answers but also justice for Dindyal.
Around the Web