Police yesterday arrested the prime suspect in the murder of West Coast Demerara (WCD) pensioner Bibi Keneiz and he has since confessed to the crime.
According to a police press release issued last night, the 37-year-old suspect who is unemployed, resides at Corneila Ida, WCD. The suspect was arrested around 09:00 hours in his home village.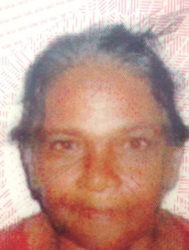 Keneiz was found murdered on October 3. The body of the 65-year-old woman was discovered in her Cornelia Ida Squatting Area home with several stab wounds and it was believed that she was sexually assaulted prior to her death, as she was nude from her waist down.
She was discovered dead by her only son, Dennis (only name given), who had visited to take her a meal. One of her daughters, Seema Ferreira had informed this newspaper that after receiving the news, she rushed to her mother's house where she saw her lifeless body in a hammock. Her mouth was stuffed with cloth and she had bled profusely.
Neighbours recalled hearing no strange sounds prior to the discovery, which would have indicated that something was amiss.
Police had arrested two men but they were released after the 72 hours permitted had expired.
Around the Web