The young mother of 13-year-old Christopher Boucher, who is suffering from a perforating corneal laceration to his left eye, is appealing to the public for assistance to get her son the eye surgery he needs abroad.
The mother, Mariana Mathais, of 11 Water Street, Agricola, East Bank Demerara, told Stabroek News that the doctors at the Ophthalmology Department at the Georgetown Public Hospital (GPH) have told her that her son will require three surgeries in order for him to see out of his left eye. She was told that the surgeries are very expensive and will have to be done in Trinidad and Tobago.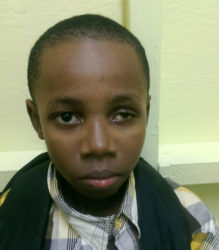 According to a medical letter that was signed by Dr Shailendra Sugrim, a consulting Ophthalmologist at the GPH, the teen, is suffering from a perforating corneal laceration to his left eye with gross loss of vision (Visual Acuity- Light Perception). The letter went on to state that the doctors post-operatively were able to preserve the globe of his left eye, but unfortunately the injuries to his eyes were too severe for him to regain vision to the eye due to retinal detachment and serve corneal oedema.
Boucher who also spoke to Stabroek News said that he lost his left eye in October, while he was playing in the street with his cousins. The teen said that his cousin picked up a brick from the mud and threw it at him, which hit him hard in his left eye. Mathais said that her son was taken to the hospital by his aunt. She said he underwent an emergency surgery at the hospital, and was admitted as a patient for three weeks. According to his mother, her eldest son missed six weeks of school at St Mary's Secondary.
Mathais said that her son's doctors had explained to her that they have done all that they could do for her child. She said the doctors told her that her son was visually impaired in his left eye and without the surgery he would remain in the same position. The young mother said that she knows her son could be left visually impaired in his left eye for the rest of his life, since she cannot afford the surgeries.
However, Mathais said one day while she was walking along Regent Street she saw a group of persons soliciting funds for a baby who was born with his brain exposed. She said that she approached the group and told them about her son's eye injury. The group, Champions of Change Organisation, had earlier this year helped raised funds for baby Emannie Melville, the baby who was born with an exposed brain, an anencephaly, and needed to undergo surgery in Suriname. The organisation, managed to raise $5 million, after numerous appeals.
CEO of the Organisation Sabrina Craig, yesterday told Stabroek News that they are currently trying to raise funds for Boucher to undergo his surgery in Trinidad, as early as next month. Craig says that the estimated cost for the procedure is not known as yet, and they are working along with several doctors from the GPH to arrive at a quotation.  She said that they are hoping to obtain the final cost of the surgery by Tuesday.
Just last week, Boucher and his mother along with Champions of Change Organisation were on Regent Street, just outside the Acme building, soliciting funds for the surgery.
Anyone interested in making donations can visit the Champions of Change Organisation which is located on the top floor of the Maraj Building, located at the corner of Charlotte and King streets.  Craig can be contacted on 217-0737 or 686-6440, and Mariana Mathais on 697-7323.
Around the Web