January
Wales Estate closure announced
Government announced the closure of the Wales sugar estate by way of a surprise statement issued from the Ministry of Agriculture. It was the first major decision on the beleaguered industry which had seen slumping production over the last decade and swingeing debt. A Commission of Inquiry into the Guyana Sugar Corporation (GuySuCo) had not recommended the closure of any estate although Wales and Uitvlugt on the West Demerara were seen as the two most vulnerable.
Hope woman burns to death after bandits set home ablaze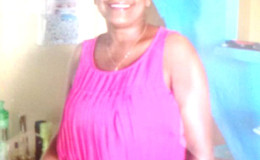 A Hope, West Coast Berbice woman was burnt to death in her home in a fire set by two bandits who first robbed and brutalised the woman and her son.
Before escaping, the bandits bound and gagged Anita Baichan, 49, and her son Moshim Khan, 28, then set the house on fire. Khan managed to escape but neighbours were unable to save his mother.
Decomposing body of British teen found in shallow grave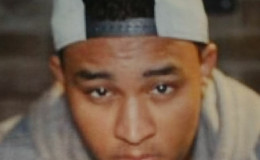 The badly decomposed body of missing British teen Dominic Michael Lloyd Bernard was found buried in a shallow grave in Berbice. Bernard, 18, had not been heard from since he travelled to Guyana last October to visit his god brother Aaron Wilfred Hing, 22.
Hing and Staymon George, 23, were subsequently charged with Bernard's murder.
Gov't launches new US$15M crime fighting plan
Government unveiled an Inter-American Development Bank (IDB)-funded US$15 million plan to reduce the levels of crime and violence here over the next five years.
A press statement from the IDB Guyana office said that government, through its Ministry of Public Security, yesterday launched the Citizen Security Strengthening Programme (CSSP), which "will contribute nationally to reducing crime and violence through a comprehensive approach that combines preventive strategies with institutional strengthening activities."
It stated that the government of Guyana "is placing significant resources to address challenges such as rising homicide rates robbery rates that significantly exceed global averages and frequent cases of domestic violence."
Zika virus confirmed here, fogging underway
On January 12, the Caribbean Public Health Agency (CARPHA) confirmed that a sample sent for testing from the Ministry of Public Health in Guyana tested positive for the mosquito-borne Zika virus. Public Health Minister Dr George Norton told the National Assembly that this was the first confirmed case of the virus in Guyana.
The sample which was submitted was taken from a 27-year-old female, whose address is listed as both Rose Hall, Corentyne and Garden of Eden, East Bank Demerara.
The Public Health Ministry subsequently commenced fogging.
February
Westford, Cummings charged with stealing over $639M
Former Minister of Public Service Jennifer Westford and the ministry's past Chief Personnel Officer Margaret Cummings were arraigned on 24 charges alleging they stole more than $639 million from the Government of Guyana. They were both granted $200,000 bail on each charge read, amounting to a total of $4.8 million to be paid to the court.
Westford, a current parliamentarian for the opposition PPP/C, and Cummings were made to stand in the prisoner's dock when the indictable charges were read to them by Magistrate Judy Latchman. The two were represented by Senior Counsel Rex McKay in association with attorneys Neil Boston, Bibi Shadick, Keisha Chase, Dexter Todd, Eusi Anderson and Brenden Glasford.
Parika Sea Dam farmer  murdered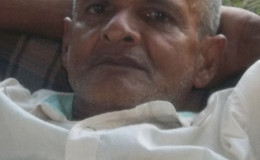 Five men were held in connection with the robbery/murder of a 64-year-old man of Parika Sea Dam, East Bank Essequibo (EBE) whose bound and gagged body was discovered in his house.
Ramroop 'Isaacs' Rameshwar was reportedly murdered during the night, but the discovery was made next morning. His son, Ramesh of Tuschen, EBE believed that his father who lived alone was killed for the $2 million in gold jewellery – including four rings, four chains and two bands – that he kept in the house.
 Father of five stabbed to death at Santa Mission
A Santa Mission man was arrested after he allegedly stabbed his cousin-in- law to death following an altercation at a 'wake' house.
Dead is 42-year-old Joseph Jaundoo, called 'Teddy' of Santa Mission, Kamuni Creek, while his alleged attacker, 22-year-old Trudy Samuels was taken into custody.
Kartabo man kills ex, then himself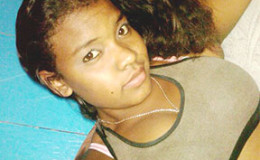 An excavator operator shot and killed his ex-girlfriend before turning the weapon on himself at Kartabo, Cuyuni River.
Dead are Terry Alexander, 22, and Glenda McCurdy called Natoya, 19, a health worker of Kartabo Point.
The police said the couple had a domestic argument during which McCurdy was shot by Alexander. He later turned the weapon on himself. A .22 pistol was recovered by the police.
Chinese businesswoman shot dead at Number 57
A Chinese businesswoman was killed by bandits after her premises were invaded shortly after 8 pm.
The dead woman has been identified as 49-year-old Jin Li Lai, co-owner of Sue's Chinese Restaurant of Number 57 Village, Corentyne, Berbice.
She succumbed at the Skeldon Public Hospital shortly after being rushed there by the Upper Berbice Community Policing Group. She was shot to the face. No one else was physically hurt although her husband was traumatized and had to be sedated.
Team rescues 25 Arapaima from Rupununi pond
A team saved 25 Arapaima from a Rupununi pond in an area which had seen falling water levels from a punishing drought.
A release from the North Rupununi District Development Board (NRDDB) said that the endangered fish were relocated to the Rewa River.
Arapaima are the largest scaled fresh water fish in the world and Guyana's rivers are one of the last sanctuaries for them. Arapaima can grow over eight feet long and weigh over 400 lbs. Unlike other fish, they come to the surface to breathe otherwise they drown.
Rodney was victim of state-organised killing
– CoI finds
Historian Dr Walter Rodney was the victim of a State-organised assassination on June 13, 1980 and this could only have been possible with the knowledge of then PNC Prime Minister Forbes Burnham, the Commission of Inquiry (CoI) into his death has found.
In the most detailed examination to date of a near 36-year-old mystery that deeply divided the country and stained the image of the PNC, the three-person inquiry, headed by Barbadian QC Sir Richard Cheltenham, also found that the late soldier Gregory Smith carried out the killing and he was then spirited out of the country to French Guiana in an elaborate operation spearheaded by the Guyana Police Force (GPF) and the Guyana Defence Force (GDF).
The two-year-old Commission, had found itself enmeshed in controversy with the APNU+AFC government, and President David Granger later charged that "badly flawed" evidence was contained in the final report.
March
17 dead after prison protest fire
Seventeen prisoners died and five others were injured after a fire was started during a protest at the Georgetown Prison, prompting Public Security Minister Khemraj Ramjattan to declare "a crisis" at the facility as government announced that an inquiry would be set up.
The fire was started by inmates housed in the Capital Offences section of the prison during an unrest. At the time, members of the Joint Services were seeking to get the prisoners out in wake of a protest on the night before, when several fires had been lit.
Agreement inked for US$50M credit from India for Ogle-Diamond road
Guyana and India inked a US$50 million loan agreement that could see commuters using a new road to traverse between the East Coast Demerara (ECD) and East Bank Demerara (EBD) by the end of 2018.
The road would bypass Georgetown which has suffered from increasing traffic congestion over the years. It will run between Ogle on the ECD to Diamond on the EBD. The road is expected to have four lanes with two of the lanes fully paved.
Massy bets big with US$4M Providence supermarket
Trinidadian conglomerate Massy opened its Massy Stores Supermarket at Providence, East Bank Demerara, where Minister of Business Dominic Gaskin welcomed the investment, while making an appeal to the local private sector to develop value-added products for export.
Speaking at the opening of the 16,000 square foot supermarket, said to be the largest in Guyana, President and Chief Executive Officer of the Massy Group Gervase Warner said that his company's US$4 million investment was not only illustrative of the confidence it has in the Guyana market but that it will also offset the impact of the economic downturn in Trinidad and Tobago on the company.
Brian Tiwari appointment as business advisor rescinded
The appointment of Brian Tiwari as Ministerial Advisor on Business Development was rescinded.
Tiwari's appointment in January this year under the signature of Minister of State Joseph Harmon, raised concerns about the basis on which it occurred. It had not been announced by the government. Tiwari had been closely linked to the previous government and is a major contractor in the construction and sea defence sectors. Early on in the life of this administration, he was embroiled in a dispute with Minister of Communities, Ronald Bulkan over the Haags Bosch landfill project.
APNU+AFC sweeps city polls with 25 of 30 seats
The ruling APNU+AFC coalition won 25 of the 30 seats that make up the Georgetown City Council in the local government elections, which saw less than 40% of registered voters casting their ballots countrywide.
Of these 25 seats, 11 were won through Proportional Representation and 14 were won by the coalition's First-Past-The-Post candidates. In fact, the coalition won the First-Past-The-Post seat in every constituency it contested.
The PPP/C won the popular vote, capturing 25,000 more votes than the governing APNU+AFC under the proportional representation (PR) component of the polls, according to results provided by the Guyana Elections Commission (Gecom).
April
Guyanese girl gets accepted to all Ivy League universities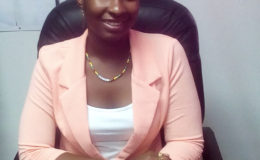 A 17-year-old Guyanese girl, Kelly Hyles, has gained acceptance to 21 colleges across the United States, including all eight Ivy League universities.
Among the schools to which Hyles has gained acceptance are Harvard, Yale, Princeton, Columbia, Dartmouth, Massachusetts Institute of Technology, Northwestern and New Michigan.
While a great academic record definitely contributed to Hyles' success, the teen, who is a dancer, cheerleader and one of three founders of a Black Student Union at her High School, admitted to CNN during an interview that being well-rounded was also a contributing factor to her being accepted to her colleges of choice.
Guyana, India sign US$1M MoU for information technology centre
Guyana and India signed a US$1 million Memorandum of Understanding (MoU) for the setting up of an Information Communication and Technology (ICT) Centre of Excellence in Guyana, a release from the Ministry of the Presidency said.
The MoU was signed between Minister of State Joseph Harmon and Indian High Commissioner here, Venkatachalam Mahalingam.
This centre will provide training for public sector ICT professionals to ensure the availability of a highly skilled ICT workforce.
Muneshwers targeting  oil, gas industry in huge port project
Local port operator Muneshwers Limited is developing a modern port facility at Houston, East Bank Demerara in a multi-billion dollar investment as the company aims to capitalise on Guyana's developing oil and gas industry. Muneshwers purchased the 28-acre property from timber company, Caribbean Resources Limited in 2014 for US$20 million. Since then, it has spent approximately US$10 million to develop the property and aims to become operational in July. Phase Two will see further investment as only a small portion has been developed in Phase One.
Some Baishanlin forests back with state
Two forest exploratory permits held by controversial logging company Baishanlin covering 134 316 hectares of forest in Regions Nine and Six have reverted back to the State.
"Two SFEPs (State Forest Exploratory Permits) have not been renewed," head of the Guyana Forestry Commission (GFC) Board, Jocelyn Dow, confirmed to Stabroek News. "Technically speaking, they have expired. Those lands are back under State control."
Good Hope couple killed after bandits set house on fire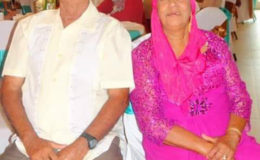 An elderly couple burnt to death after bandits broke into their home at Good Hope, East Bank Essequibo and set it alight.
Reports are that Mohamed Munir, 75, and his wife, Jamilla Munir, 70, who were popular rice farmers, were secured in their bedroom in the heavily grilled house. Residents who were at the scene told Stabroek News that the bandits scaled the veranda and cut the grill before smashing their way in through a glass door. After they were unable to gain entry to the Munirs' bedroom, the bandits apparently poured gasoline and lit a fire in front of the couple's bedroom.
May
GTUC, FITUG in unity rally
United for the first time in decades, trade union leaders blasted the David Granger administration for its failure to keep several promises but Prime Minister Moses Nagamootoo said that work is being done even as he urged that the criticism of government be fair. Participating in a joint May Day rally for the first time since 1988, the trade union leaders fired at the administration from all sides on a string of issues with Guyana Trades Union Congress (GTUC) General Secretary Lincoln Lewis warning that "efforts are intensifying at treating us with contempt and wanting to put us on the fringe of society."
Amended anti-money laundering bill passed
After almost two hours of heated debate, government last evening passed the Anti-Money Laundering and Countering the Financing of Terrorism (AML/CFT) (Amendment) Bill despite pleas from the opposition that it should not be rushed and ought to be sent to a Select Committee.
Bartica declared town
Bartica was officially declared a capital town and President David Granger promised that all government buildings in the municipality will be powered by renewable energy by the end of his current term in office.
"You are a town now. This is your moment to dazzle the rest of Guyana," Granger said to the applause of residents and his accompanying entourage, which included several ministers of government and other dignitaries, at the ceremony yesterday.
Bartica, in Region Seven, which was first gazetted as a town on October 21 last year, is set to be the model town for the green economy that is being pursued by central government.
Fire guts Gafoor's Houston Complex
Hundreds of employees of the Gafoor's Houston Complex and associated businesses housed there face uncertainty after a massive fire destroyed several sections of the multi-billion dollar complex leaving behind billions of dollars in damage.
Guyana commemorated its 50th anniversary of independence with a series of events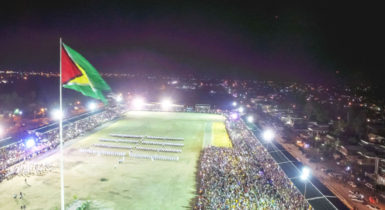 The raising of the Golden Arrowhead at D'Urban Park. (Photo by Keno George)
June
UK soldier here for jubilee mugged near Stabroek Market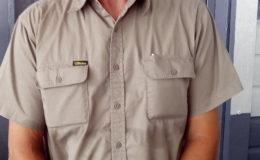 Edward John Constant, the retired British soldier who returned to Guyana to join in the celebration of the country's 50th independence anniversary was robbed in the vicinity of Stabroek Market.
Constant who at 19 years old, travelled to Guyana in 1966, had served from March to October that year in the Middlesex Regiment.
In a letter to British High Commissioner Greg Quinn, Constant wrote that he had promised himself, "God willing," that he would return. "My intentions were to wear my blazer and medal on the parade ground on the 26th May as I did 50 years ago," he stated. He was able to fulfil that promise but three days after describing Georgetown as "safer" today than it was in 1966, Constant was robbed of a gold chain along with his late wife's engagement and wedding rings.
Mahaica guard chopped to death by husband at Bygeval school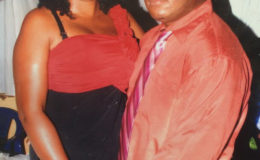 A woman was chopped to death by her husband, who made good on previous threats to end her life because she disregarded his wishes that she not work. Security guard Candacy Pitt, 31, of Chelsea Park, Mahaica, East Coast Demerara, was attacked at the Bygeval Secondary School, a stone's throw away from her home, where she was on duty. Pitt's cousin, Brenda Thomas, 51, also of Chelsea Park, and who was also guarding the school, was also chopped and is currently a patient at the Georgetown Public Hospital.
Police, in a statement, said that the suspect, Athlone Pitt, 41, surrendered and confessed to the crime.
Marriott for sale in two years – Harper
The Marriott Hotel is making itself marketable as government prepares to sell it in two years' time with outfitting of an Entertainment Complex and Casino set to begin soon even as other works such as correcting defects are ongoing.
July
Crane man hacks wife, toddler to death
A Crane, West Coast Demerara man butchered his wife and two-year-old-son and critically wounded his mother during a rampage that was eventually brought to an end when he was shot by the police. Dead are Vanessa Sookram, 34, who was said to be partially disabled, and her son, Joel Ganesh. Their assailant, who was identified as Suresh Ganesh, 28, called "Tarzan" and "Battery," allegedly also turned the murder weapon, a cutlass, on his mother, Jennifer, and severed one of her hands.
 Two young brothers died in Drop-in Centre fire
Two young brothers, who were at the Drop-in Centre for less than two days, perished in an early morning fire at the institution and the Ministry of Social Protection's Child Care and Protection Agency (CCPA) said it took full responsibility for the tragedy.
Antonio George, 6, and his brother Joshua, 2, perished in the fire after they were trapped in the building. Twenty-nine other children who were at the facility escaped the blaze.
Landmark telecoms bill passed
After more than six hours of debate, the long-awaited telecommunications reform legislation was passed in the National Assembly and although opposition speakers expressed support for it, they also tried without success to have it sent to a special select committee to correct what they said was its deficiencies.
The Telecommunication (Amendment) Bill 2016, according to Minister Cathy Hughes, is not only a step towards bringing Guyana on par with sister Caricom countries but it would also liberalise the sector, allowing for new entrants and creating an environment which is fair and competitive. A total of nine MPs from both sides of the House agreed that the bill was a step in the right direction.
Two men, teen boy found shot to death at Mibicuri Creek
The bodies of two men and a teenage boy, bearing gunshot wounds, were discovered at Mibicuri Creek, Black Bush Polder. The dead have been identified as rice farmer Pawan Chandradeo, 37, and his 15-year-old son Jaikarran Chandradeo, of 163 Mibicuri North, Black Bush Polder, as well as the senior Chandradeo's brother-in-law Naresh Rooplall, 33, of Number 75 Village, Corentyne. Chandradeo and his son sustained gunshot wounds to their heads, while Rooplall was shot to his neck. Police, in a brief statement, said each body bore a single gunshot wound.
August
North Road miner shoots wife, kills self Photo : Theodore Adams, Sarojini Warnauth
A miner shot and injured his wife before killing himself with the weapon at their North Road, Lacytown, Georgetown home. Dead is 73-year-old Theodore Adams called "Totie". His wife, Sarojini Warnauth, 42, was shot in her mouth.
CSEC pass rate plunged in Maths, rose in English
Only 38.37% of the local students who wrote Mathematics at this year's Caribbean Secondary Education Certificate CSEC) examinations were able to secure a pass. This was almost 7% less than the 45.07% pass rate for the core subject in 2015. It was also less than the 38.75% pass rate that was recorded in 2014.
Asked to account for this year's decline, Permanent Secretary of the Ministry of Education Delma Nedd said that there was a decline across the Caribbean.
The Caribbean Examination Council had announced that a 44% pass rate in Mathematics this year represented a drop from the 57% recorded in 2015.
Boy, 14, found murdered  in burial ground
The body of a 14-year-old boy was discovered in a Corentyne burial ground, some 300 feet from his home and the police later arrested and charged a suspect.
Akeem Grimmond of Lot 53 Section 'B' Number 61 Village was found dead with multiple chop and stab wounds about his body.
Norton apologises for drug bond deception
Public Health Minister Dr George Norton had inaccurately stated that government sole-sourced the rental of a Sussex Street property from Larry Singh—owner of Linden Holding Inc—for $12.5M million monthly to store drugs, because it had been paying the New GPC $19 million a month in rental fees for its Ruimveldt warehouse, and also that pharmaceuticals and medical supplies were already being stored at the location. However, it was later revealed that the government had not yet paid New GPC and that the bond was still undergoing renovation. Norton subsequently apologized in Parliament and appealed for a chance "to do better".
September
Cummings Lodge woman found stabbed to death
A 48-year-old woman was found lying on her kitchen floor with stab wounds. The dead woman was Anita Mohan called `Sandra', 48, a vendor of 315 South East Cummings Lodge, Greater Georgetown. She was discovered by her son Intiaz Khan, 27.
Girl, 7, baby brother killed in Blankenburg crash
An infant and his seven-year-old sister were killed after their father lost control of the car transporting them and crashed into two parked vehicles along the Blankenburg Public Road, West Coast Demerara. Dead are 10-month-old Marvin Halley and his sister, Tina Halley, of Lot 33 Covent Garden Public Road, East Bank Demerara.
Their father, Mark Halley, 31, sustained head injuries and several broken bones while his wife, Michell Miguel, who was also in the vehicle, sustained injuries to her neck.
Illegal Cessna found at Yupukari strip
A twin-engine Cessna aircraft was discovered at the Yupukari Airstrip, Region 9. In a statement, the Guyana Defence Force (GDF) said that it received information that an illegal aircraft was at the Upper Takutu/Upper Essequibo airstrip and a joint patrol from the GDF and the Guyana Police Force was sent to the areas.
October
Tuschen taxi driver robbed, shot dead
A Tuschen Housing Scheme, East Bank Essequibo taxi driver died after he was shot in the chest during a robbery.
Rolun Jodmie called 'Vishal', 24, was found in an area known as Black Water at the back of Tuschen Housing Scheme after being hired by two men. Residents of the area heard gunshots and discovered Jodmie, covered in blood and slumped in the driver's seat.
Guyana blasted Venezuela over offensive statement on anniversary of 117th Arbitral Award
Guyana blasted Venezuela for the "vituperative" statement it issued on the 117th anniversary of the 1899 Arbitral Award.
While Guyana commemorated with a booklet detailing the award, a press release from the Ministry of Foreign Affairs said, Venezuela was engaged in "a frenzied display of ill temper." It noted that history has caught up with Venezuela, "revealing the tangled web of falsehoods on which [its] specious claims to Guyana's Essequibo were built."
GWI Chairman resigned

Chairman of the Guyana Water Inc (GWI) Board of Directors Nigel Hinds tendered his resignation, while saying that he could not perform in the best interest of the company as a "rubber stamp."
His resignation, effective from October 26, 2016, followed ongoing issues with the corporation's Chief Executive Officer Dr Richard Van West-Charles.
Ann's Grove miner perished in pit cave-in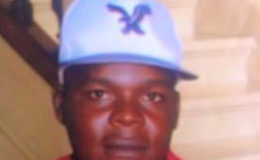 An East Coast Demerara father of two died after a mining pit at Rock Creek, Puruni caved in while he was working in it.
Keon Wilson, 33, resided at 61 Ann's Grove Housing Scheme.
In March this year, Trentan Sebastion, 19, died in a cave-in at Konawak, Mahdia.
Cabinet axed land takeover
Cabinet decided to rescind orders to compulsorily acquire private lands on Carmichael Street to extend the Ministry of Legal Affairs.
Attorney General Basil Williams had confirmed that under the Acquisition of Lands for Public Purposes Act, government was seeking to acquire lands owned by Guyana's High Commissioner to Canada, Clarissa Riehl and her husband and the Beharry Group of Companies.
Riehl and her husband own the plot located at the corner of Middle and Carmichael streets while the Beharry Group owns the piece located between Riehl's and the Ministry's building.
Government had issued an order to this effect.
Dataram, wife arrested in Suriname
Fugitive drug trafficker Barry Dataram and his common-law wife Anjanie Boodnarine were arrested at a house in Suriname.
The duo had skipped the country prior to the end of their drug trafficking trial. Dataram, in his absence, was found guilty of possession of narcotics for the purpose of trafficking and in addition to a 60-month sentence, he was slapped with a $164 million fine.
Ulverston mom of four stabbed to death by children's father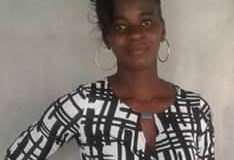 The heroic action of a Corentyne shopkeeper, who ran and grabbed on to a man as he was stabbing the mother of his four children, allowed her to escape, but was not enough to save her life as she subsequently succumbed.
Dead is Yansen Tamika Brusche, 38, of Lot 20 Ulverston Village, Corentyne, Berbice.
November
Two accused in Bartica massacre plead guilty to manslaughter
Michael Caesar and Clebert Reece, two of the five men committed to stand trial for the murders of 12 persons at Bartica in 2008, pleaded guilty to the lesser count of manslaughter.
Caesar and Reece accepted that on February 17, 2008 at Bartica, they unlawfully killed Lance Corporal Zaheer Zakir and Constables Shane Fredericks and Ron Osborne, Edwin Gilkes, Dexter Adrian, Irving Ferreira, Deonarine Singh, Ronald Gomes, Ashraf Khan, Abdool Yasseen, Errol Thomas, and Baldeo Singh.
Reece was subsequently sentenced to 35 years in jail, Caesar was later jailed for 60 years.
Noel Blackman agrees to forfeiture judgment of US$503,000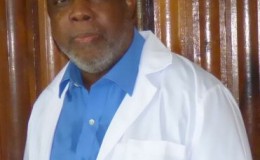 Former Minister of Health Dr Noel Blackman who in August pleaded guilty in a New York court to conspiracy to distribute oxycodone, a controlled substance, consented to a forfeiture money judgment of US$503,200.
The sum has to be paid by the date that Blackman is to be sentenced – January 6, 2017.
In addition to this judgment, Blackman has agreed to the forfeiture of one Alcatel cellular telephone, one HP laptop computer and US$33,000 which was seized from his luggage.
Blackman, who was charged with conspiracy to distribute and distribution of the painkiller, oxycodone, pleaded guilty to count one of his indictment before Judge Seybert in August.
Castro remembered as friend to Guyana
Former Cuban president Fidel Castro was hailed as a friend to Guyana by local political leaders, who said he would be remembered as an inspiration for his revolutionary commitment and generosity as a leader.
Castro, a former revolutionary fighter who led the Caribbean nation for 50 years after seizing power in 1959 following his overthrow of Fulgencio Batista, died on November 26, at 90 years old. He served first as prime minister from 1959 to 1976 then as president from 1976 to 2008, when he retired from public life.
Demerara
Bank running Camp St HQ on solar energy
Demerara Bank Ltd's Head Office and Corporate Banking Branch on Camp Street is now fully powered by solar energy.
Speaking at the official launch of the new $57.3 million system, the bank's Chief Executive Officer (CEO) Pravinchandra Dave said the move to solar power had been taken into consideration since the start of the design of the building, which was opened a year ago.
CAL plane clips tail of Fly Jamaica craft at CJIA
The tail section of a parked Fly Jamaica plane was knocked off by a Caribbean Airlines (CAL) craft as it was pulling into the apron at the Cheddi Jagan International Airport, Timehri.
No one was injured and all passengers onboard the flight were able to leave for their respective destinations with their luggage. However, outgoing CAL and Fly Jamaica flights were cancelled as a result of the incident.
December
DNA tests confirmed skeletal remains belonged to Babita Sarjou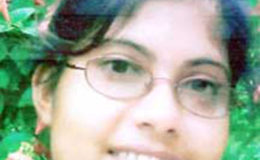 More than six months after skeletal remains were unearthed at the Campbellville residence of Babita Sarjou's estranged husband, DNA tests confirmed that they were indeed hers.
The remains were handed over to Sarjou's family and she has been buried. On the eve of Diwali, in November of 2010, the then 28-year-old Sarjou had left her Timehri home to view the annual motorcade with her estranged husband, Anand Narine, and four-year-old son; she never returned home. Narine and another man have since been charged with her murder.
Billion-dollar Santa Fe farm eyeing cattle expansion
After six years and an investment of over $1.3 million to date, the Santa Fe mega farm in Region 9 is waiting on government's go ahead for an additional 20,000 acres of land to begin cattle rearing in early 2017, thus completing the first phase of the project.
Kidney drugs seized over improper storage, sanctions against manufacturers
A significant quantity of Erythropoietin injections made in India and purchased for use by kidney disease patients, was seized by the Government Analyst, Food and Drug Department (GA-FDD), as the Indian manufacturers have reportedly been banned in the United States, but the Georgetown Public Hospital Corporation (GPHC) has since said that the entity acted rashly.
Both the GA-FDD Director Marlan Cole and the GPHC Director of Medical and Professional Services Dr Sheik Amir have confirmed the seizure which occurred on September 30 at the GPHC's bond.
14 bandits with  AK-47s grab millions from Cambio dealer
A Number 79 Village cambio dealer was robbed of millions in cash and jewellery when a gang of 14 men, who were heavily armed including with AK-47s, invaded his home.
Devendra Churaman, 48, also known as 'Katac,' of Lot 93 Albert Street, Number 79 Village, Corentyne, was at a loss for words after the attack.
Judicial settlement of Venezuela controversy closer
In a much-anticipated decision, outgoing UN Secretary General Ban Ki-moon has decided that the Good Offices process on the decades-old border controversy between Guyana and Venezuela will be given one more year and if by the end of 2017 "significant progress" has not been made, the case will move to the International Court of Justice (ICJ).
Guyana has accepted the decision announced in a statement from the United Nations in New York and has called on the nation to support the process.
PPP/C fixing to return to power
The People's Progressive Party/Civic (PPP/C) is preparing to return to power at the next elections and will use the time between now and then to fix the things that led to it becoming the opposition and appeal to disaffected APNU supporters.
ExxonMobil awards  key contract for oil well
As ExxonMobil gears up for production from Guyana's first oil well by mid-2020, the company announced that it has awarded contracts to US-based, SBM offshore for a floating production storage and offloading (FPSO) vessel.
Around the Web