In order to make the former Guyana Broadcasting Corporation building on High Street safe to occupy, the Ministry of Social Protection will expend over $1 billion on repairs.
According to ministry spokesperson Terrence Esseboom, the ministry plans to relocate all of its offices to that building in 2018 and as such has earmarked $1 billion in the 2017 budget for repairs. While he was not able to state the specifics of the repairs, he indicated that there was major work to be done.
He added that the work on the building was expected to start in the first quarter of this year and if the total costs exceeded the budgeted sum, Minister of Social Protection Volda Lawrence will have to apply for additional funds.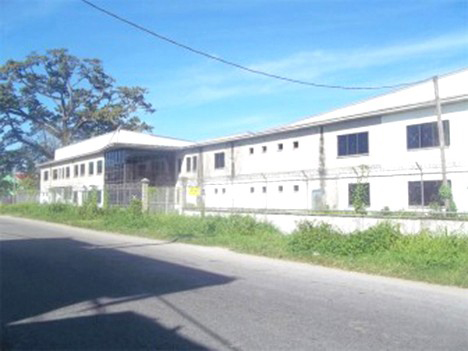 The complex was built in 2008, but has been the source of much controversy since then, owing to defects in its construction.
The 65,000-sq ft facility was initially intended to house the former
Ministry of Labour, which at that time had offices scattered throughout the city. According to a former worker, the building was more than 70% complete when works stalled, with interior work and general painting being among the final things to be done.
After it was abandoned, the compound became overgrown with grass and drug addicts subsequently occupied parts of the building.
It was next said to be earmarked for the Guyana Revenue Authority (GRA), but that entity had objected to using the building.
In August 2012, then minister of Natural Resources Robert Persaud had announced that the government had transferred the building to the Guyana  Geology and Mines Commission (GGMC). The GGMC subsequently invited and evaluated bids for completion of the building but contention over the award saw the project put on hold and garnering the attention of Cabinet.
It was reported that the building's foundation had been done with
sub-standard material and that the contractor, Kishan Bacchus Construction Company, had carried out work on the foundation and on the interior of the building that was in excess of contractual specifications. It was also disclosed that the ceiling of the building was improperly designed and as a result the placement of air vents and roofing works would have resulted in limited vertical space.
Kishan Bacchus Construction Company had only secured the contract after the initial contractor backed out of the project. It is unclear if anyone has ever been penalised for the substandard work done.
A subsequent forensic audit into the National Industrial and Commercial Investments Limited (NICIL) had found that $350 million in public funds were spent on the construction of the building.
NICIL's former executive director Winston Brassington later said that no law had been broken in the entity's funding of the ill-fated project. The funding for the project was approved at the parliamentary level.
Around the Web