January 17 will be five years since the life of Sanjay Persaud, 40, a
vendor of Bourda Market was brutally snuffed out by two gunmen and his grieving relatives are pleading for justice to be served.
Persaud known as 'Father' of Sisters Village, West Bank Demerara, was robbed of a quantity of gold jewellery he was wearing, around 9:30 on that fateful night.
He was admitted at the Georgetown Public Hospital (GPH) in a critical
condition where he later succumbed to a gunshot wound to his stomach.
At the time he was in the company of other peddlers, one of whom relatives said was his "best friend." They were held for questioning and later released.
His brother, Rajin Persaud, told Stabroek News (SN) that every time the month of January approaches, it brings back horrible memories of his younger sibling's ordeal.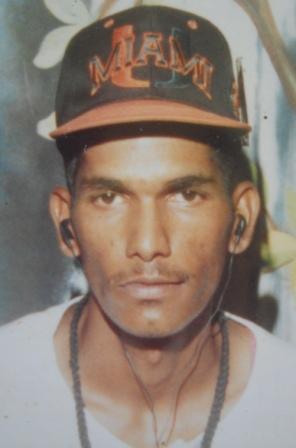 He also recalled that his brother enjoyed spending the Christmas season with the family and that this is a very sad time for them.
He described him as a very kind and "free-handed" person, saying "anybody coulda get anything from him."
Persaud lived with his mother who took his death really hard and became sick. She died a few months later.
His wish for the New Year would be for his brother's murder to be solved and for the killers who are roaming the street freely to be placed behind bars.
Rajin is surprised that even though one of the gunmen was known to the vendors, he was not arrested and charged.
A sister recalled that on the night of the murder, the friend called at
their home and when she looked out she saw him with her brother's bag and suspected that something was amiss.
He then told her that Persaud was shot and was at the hospital and they left immediately to see him.
After Persaud was buried, his friends said they saw the man walking on the street. They kept looking at him and "he asked them if they like talk."
According to him, Persaud loved to wear a lot of jewellery and was also
known as 'Gold god.' He said when relatives warned him not to "wear all that gold" he told them "he was a regular in the town and nobody would do him anything."
Wild gun play
Eyewitnesses had described the incident as a "wild gun play" after the two men approached Persaud and asked him for a "light."
Less than three minutes after, Persaud had been shot, robbed and left lying on the road. "Is bare shots de licking…this is not no talk I talking yuh know, these men pull out guns and just start displaying on the road. These men shoot like wild, but is only 'Father' really get target," Seon Goodridge recounted at the hospital that night.
Prior to the shooting, Goodridge recalled that the group was at Merriman Mall hanging out when one of the gunmen approached him over an old story.
The man was alone at the time and was demanding money that Goodridge owed him. Goodridge said he made the payment and the man left.
Stephon Phillips, a friend, said he tried to wrestle the gun from one of the men after the weapons were drawn but he was unsuccessful.
Phillips recalled that he initially panicked after the men flashed the guns, but within a few seconds he was fighting with one of them.
Phillips recounted how he held firm on the man's wrist and tried to knock the gun from his hands when rounds were discharged.
But as Phillips challenged the gunman the other one had the gun pointed at his friends, including Persaud.
Phillips said he realized the man was stronger and decided against putting up a fight. As soon as he released the gun, he said, the man turned it on Persaud and shot him. "I see this man just turn to 'Father' and shoot he…blam! I said is wha is dis and I just start ducking because was me next," Phillips added.
A market constable who was alerted by the gunshots told Stabroek News that he called the police after the young men rushed over to report what happened. The police turned up promptly and transported the injured Persaud to the hospital.
Shortly after the murder, Rajin made several visits to senior police
officers and even to Clement Rohee, the then Home Affairs Minister, but no action was taken.
He is confident now that his brother's killers would be brought to justice especially after opening the newspapers and reading about other cases being cracked.
He congratulated Crime Chief Wendell Blanhum on his good work and called on him to "have the matter expedited."
Around the Web