The family of a Bath Settlement, West Coast Berbice farmer who has been missing for over 17 days, is calling on the authorities to instruct ranks at the Fort Wellington Police Station to conduct a thorough investigation into their missing person's report.
Ramzam Bassalat, 45, also known as 'Bucky', was last seen some 17 days ago wearing a white t-shirt and blue jeans, leaving his sister's home in Woodley Park Village, around 8 am. He was heading to a shop in the village to purchase cigarettes.
One of Bassalat's sisters, Nazreen Shahid, of Rosignol Village, West Coast Berbice, informed Stabroek News, that after the disappearance of her brother, the family immediately launched a search party and retraced his steps. "We go to the shop and the people say he never go to buy the cigarettes," she recalled.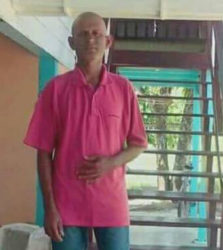 According to the 47-year-old woman, her brother used to reside with some of his friends who he worked with in Bath Settlement. However, two days before his disappearance he and the people he lived with were involved in a heated argument, during which they allegedly beat him.
"We went and find out and the neighbors tell we how them beat he so bad, he catch fits. He never catch fits in his life before," Shahid said.
She added that her brother phoned her sister in Woodley Park after the alleged fight and asked if he could move in with her and two days later, he mysteriously went missing. She noted that her brother has never been missing before, as he would check in with them regularly.
She stressed that she did not want to accuse anyone without solid evidence, but there was room for speculation.
Shahid said over the period of 17 days, she reported her brother being missing twice at the Fort Wellington Police Station, "and them police na come out and investigate. Me never hear back nothing from them."
She explained that the father of one was a quiet person. "Me brother does drink but he don't get into problem," Shahid stated adding that her only wish is to have her brother returned home safe.
Anyone with information on his whereabouts is asked to contact the family on telephone numbers 651-8058, 652-5285, 328-7399 or the nearest police station.
Around the Web