A family was given the heartbreaking news of the loss of their husband and father on New Year's Eve, after a Berbice lawman who was allegedly driving at a fast rate slammed into the Corentyne labuorer, pitching him some 35 feet away.
Naveneranauth Ragnandan, 37, also known as 'RZ' of Bush Lot Village, Corentyne was said to have died immediately after being struck. He was pronounced dead on arrival at the Port Mourant Hospital.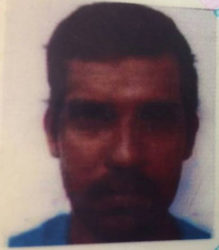 According to relatives, Ragnandan left home to discuss work with Hemraj Latchman, a farmer of the same village. He was struck down seconds after his conversation with the farmer.
The farmer said Ragnandan was walking away and he was heading to go pen his animals, when he heard an impact. He immediately turned around and saw Ragnandan in the air. According to Latchman, he noticed that the car was being driven by a police officer, who stopped some 200 metres away.
"He did speeding and he didn't want the brakes impression to show how speed he was driving, so he slow down till he stop," Latchman explained. "The man stop till by that shop till up the road there," he pointed out to Stabroek News.
Ragnandan's distraught wife, Diwantie Bissembar, also known as 'Kim', told Stabroek News that initially she heard there was an accident on the road around 7 pm but was not aware that her husband was involved. "Me sister-in-law them start run out and them tell me to stay na go, so me stay," she said. However, when she heard it was her husband who was involved in the incident and she demanded that her relatives take her to the scene. The woman said that as she got there, she saw her husband's lifeless body being placed in a police jeep.
Bissembar expressed her frustration at investigators who she claimed told her that they did not have any statements from eyewitness in connection with the incident. "Me go the station yesterday morning and them say they don't have any evidence, that nobody na give them no statement wah them see," she said. She pointed out that strangely, the lawmen for a second time asked her, "If I went there and see when me husband went on the road. I tell them no again."
She then explained that her husband helped her cook Old Year's dinner and assisted her with her chores before leaving home to go and discuss work for the rest of the week with his friend Latchman. She last saw him around 2 pm when he left home.
The woman said she, her husband and their two children, aged eight and sixteen, were planning to ring in the New Year together at their home with a few other relatives. "Me tell he when he go road and come back me go buy some beers and he go sit down home and drink it and me na get to see he back till me hear he dead."
She said she saw the driver of the car who caused her children to be fatherless when she last visited the police station. She is calling for investigators at the Whim Police Station to investigate thoroughly and diligently, as she is demanding justice for her husband.
Commander of 'B' Division Ian Amsterdam told Stabroek News that the officer was tested, but was not found to be above the legal limit of alcohol consumption. He explained that a statement was taken from an eyewitness and a file will be prepared and sent to the Director of Public Prosecutions.
A post-mortem examination is expected to be conducted on Ragnandan's body today.
Around the Web