The owner of the three pit bulls that allegedly attacked and killed a man and injured another about four months ago at Leonora, West Coast Demerara (WCD), was on Friday charged in relation to the incident and was released on $50,000 bail.
Marcelline Basdeo-Small appeared in the Wales Magistrate's Court where she was charged with two counts of allowing ferocious dogs to be at large.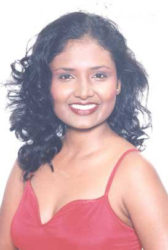 She pleaded not guilty and was granted a sum of $25,000 bail on each charge.
The incident occurred on September 15 at Para Field, Leonora, WCD and resulted in the death of a man who was later positively identified by his brother as Bashkar Chandar, 52, of Section 'C' Golden Grove, East Bank Demerara.
Two other individuals Ramanand Bhikam, 62, of Stewartville Housing Scheme, WCD, and Wilbert Adams, of Cornelia Ida, WCD were also injured after they were attacked allegedly by the said dogs earlier in the day. They were taken to the Leonora Cottage Hospital where they were treated and sent away.
Chandar's body was found lying face down during the early hours on September 15 by residents of the area who contacted the police.
One woman had recalled hearing her sheep bleating loudly that said morning and on checking she saw the dogs attacking them. She said she picked up a piece of wood and threw it at the dogs in an effort to free the sheep.
Adams, who is an employee of the Guyana Sugar Corporation's Uitvlugt Estate, had reported he was circled by the dogs and had to use a piece of wood he pulled out from a fence nearby to protect himself. Bhikam had related to this newspaper that he managed to escape with minor injuries after he armed himself with a cutlass and fended off the dogs.
Four days after the incident, Basdeo-Small surrendered at the Leonora Police Station. She was released on $100,000 station bail pending investigations. The case file was completed and sent for legal advice prior to charges being laid.
Around the Web