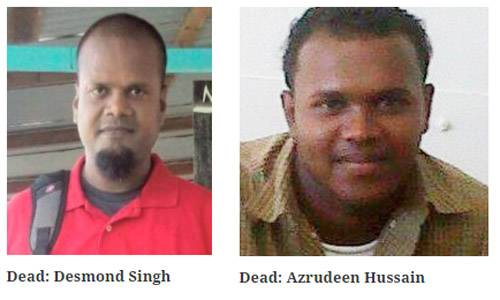 A final-year University of Guyana (UG) student and another man are now dead after they were shot shortly after leaving an illegal cockfighting competition at Friendship, East Bank Demerara (EBD) on Sunday evening and the police have since held two persons for questioning.
Dead are Desmond Singh called "David" and "Fix Up", 34, a poultry vendor of Lot A-1 Orange Walk, Bourda and Azrudeen Hussain, 24, a cattle farmer and final-year pharmacy student at UG, who resided at Baiboo, Mahaicony Creek.
Singh, who was shot about 15 times about his body died on the spot, while Hussain who was shot once in his neck succumbed shortly after he was transported to the Georgetown Public Hospital (GPH).
The incident, which resulted in the first two homicides for this year, occurred around 7 pm at Humphrey's Street, Friendship, EBD.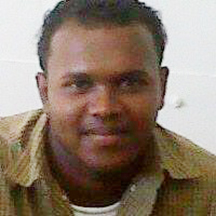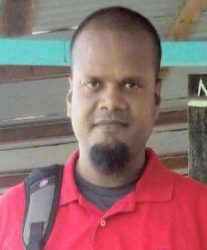 While the circumstances surrounding the fatal shooting remain unknown, the police are treating the incident as a hit, since no valuables were taken from either of the men.
The Guyana Police Force, in a press release, said that Singh and Hussain were conversing with each other when two armed men whose faces were concealed with kerchiefs approached them and opened fire.
A police source informed this newspaper that acting on information received, the police yesterday morning arrested two suspects in North Ruimveldt, Georgetown. The source said apart from the duo investigators were also trying to locate the other persons who were present during the cockfight.
Stabroek News understands that the dead men, who were friends, had just left a venue located close to the Friendship Secondary School where the cockfight was held and were having a conversation when the gunmen suddenly appeared and opened fire, fatally wounding them.
When this newspaper visited Singh's home yesterday, his business, which is on the same premises, was open. His sister, who preferred to remain anonymous, said the incident had left the entire family in disbelief. She said her brother had no known enemies and as such the family was puzzled as to what might have led to his gruesome death. "They shoot my innocent brother and kill he," the grieving woman said as she called on the police to thoroughly investigate the matter and find the perpetrators.
She explained that she last saw Singh on Sunday around 3 pm when he left home to attend the cockfighting competition, which, according to her, was customary.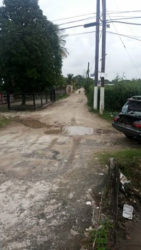 Meanwhile, Hussain's father, Azad Hussain told this newspaper that "fowl fighting" was his son's only hobby. The elder Hussain said that from all indications the incident appeared to be a hit on Singh during which a bullet accidentally struck Azrudeen.
Azad related that his son was assisting him in their rice field on Sunday afternoon, after which he left informing him that he was going to the "fowl fight" with his brother and nephew. "He say he going and see the fowl fight and I know that is he only hobby so I don't stop he," Azad said.
The man explained that based on what he was told the fight had just finished and Azrudeen was about to leave for home when Singh stopped him and they started a discussion. "It got to be a hit on the other guy…because it had five other persons in Azrudeen vehicle including his brother and nephew when the shooting happen and nobody ain't do them nothing," Azad said.
He said he learnt of the incident after his daughter received a phone call. "She drop the phone and she mother go and pick it up and answer to see what's wrong then we get to know what happen," he said. Azad said his son was on semester break from UG. Azrudeen who also owned and ran a meat centre in the Mahaica area was described as a very dedicated and quiet.
Around the Web