The Director of Public Prosecutions (DPP) has advised that an inquest be held into the fatal shooting of ex-policeman, Ryan Vaux, who died during May last year after he was shot by the police.
The police in a press release yesterday afternoon said that an investigation in relation to the matter was conducted by the Office of Professional Responsib-ility.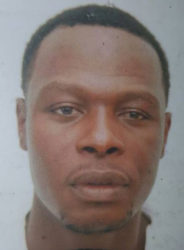 "A case file was compiled and sent to the DPP, who subsequently advised that an inquest be held", the police said.
Thirty-six-year-old Vaux of Lot 80 Norton Street, Lodge, Georgetown was shot once in his back around 1:10 am on May 9 last after he allegedly attempted to open fire at the police in a bid to escape. He was taken to the Georgetown Public Hospital (GPH) where he was pronounced on arrival.
Vaux's accomplice was taken into custody and a pellet handgun was recovered in motor car PSS 6835 which he was driving. The car had crashed during their escape bid in the vicinity of Vryheid's Lust Access Road, East Coast Demerara (ECD).
The man who Vaux and his accomplice allegedly robbed has been identified by the police as Deryck Persaud, 46, of Cummings Lodge, ECD. He was unharmed.
The police in a press release had said that ranks of a mobile patrol along Broad Street, Montrose, ECD saw Persaud running behind the motor car and shouting that he had been robbed of a sum of money by the men in the vehicle.
As a result, the release had said, the police intercepted the motor vehicle and $21,000 was found in the accomplice's possession.
The suspect and Persaud were placed in the police vehicle and PSS 6835 was escorted to the Sparendaam Police Station, the police said.
Persaud informed the police that he had been robbed by the duo, who were armed with a handgun and a knife. The release further stated, on arrival at the police station, ranks approached Vaux, who brandished a firearm and drove off in an attempt to escape. A rank then discharged a round in his direction which struck him in the back. It was subsequent to this that the vehicle crashed.
Around the Web