Prison Officer Godfrey Leitch yesterday recalled walking along First Avenue, Bartica, on the night of February 17, 2008, when he heard, what sounded like rapid gunfire erupting in the area.
Leitch was at the time testifying at the trial of Dennis Williams, called 'Anaconda,' Mark Royden Williams,
called 'Smallie' and Roger Simon, called 'Goat Man,' who have been indicted for the massacre of 12 persons at Bartica in 2008.
The charge against the trio is that on February 17, 2008, they murdered Lance Corporal Zaheer Zakir, and Constables Shane Fredericks and Ron Osborne, Edwin Gilkes, Dexter Adrian, Irving Ferreira, Deonarine Singh, Ronald Gomes, Ashraf Khan, Abdool Yasseen, Errol Thomas, and Baldeo Singh.
Leitch recalled leaving the First Avenue residence of his in-laws to run an errand sometime after 9 on the night in question.
He told the court that after getting onto First Avenue, where he was going to make a purchase, he heard a series of explosive sounds, which sounded like gunshots.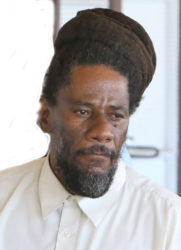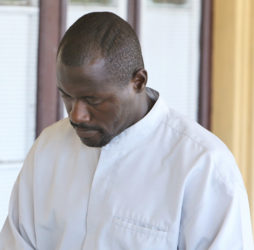 The Mazaruni Prison Officer said that he was then stopped by "a man in civilian clothes," who was wearing a bullet-proof vest and carrying a "long gun."
The man he said, ordered him to lie on the ground. Leitch told the court that he raised his head, and recognised that they knew each other.
The witness said the man told him something, and shortly after they heard more suspected gunshots and the voice of a woman saying something. He said that he and the man went to the woman's assistance and noticed what appeared to be a bullet wound to her leg.
Leitch said that after the shooting ceased and based on information received, he visited several locations, including the Bartica Police Station, where he saw the lifeless bodies of civilians and policemen lying on the ground.
The case continues this morning before Justice Roxane George and a jury at the High Court in Georgetown.
Attorneys-at-Law Roger Yearwood, Saphier Hussain and Peter Hugh are representing Mark Royden Williams, Dennis Williams and Simon, respectively, while the state's case is being presented by Prosecutors Diana Kaulesar and Stacy Goodings.
Around the Web