The Police in 'B' Division have widened their search for Shamar Mohammed Ally, who is the main suspect in the chopping of his ex-girlfriend and her mother at Number 70 Corentyne, Berbice, on Christmas Eve.
Commander of 'B' Division Ian Amsterdam told Stabroek News yesterday that the search for the man was widened after police received reports of his whereabouts from sources.
He said the police are hoping to find the man before the week is out.
The man has been in hiding for over a week since the attack, in which he severed his ex-girlfriend's left hand.
Bhartie Udo, 23, still remains hospitalised at the Georgetown Public Hospital Corporation (GPHC), while her mother, Amika Udo, 43, was discharged on Sunday.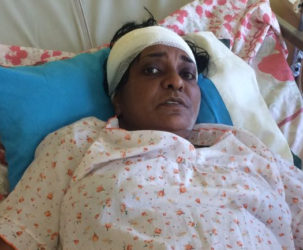 Bhartie, in an interview with Stabroek News, had named her attacker as her ex-boyfriend, Ally, 40, also of Corentyne, Berbice.  On Christmas Eve night, Ally launched an attack on his ex-girlfriend with a cutlass and fractured her right hand and severed her left hand. Her mother was also chopped about her body while trying to save her daughter from the attacker. Both women were later transferred to the GPHC.
Around the Web