A Corentyne man attached to the Guyana Power and Light Inc. (GPL) fell to his death from an electrical pole on which he had been working, in Belvedere Village, Corentyne, on Tuesday afternoon.
Brian David Clifford, 47, of Lot 414 Bush Lot Village, Corentyne was picked up and rushed to the Anamayah Memorial Hospital, in Belvedere Village, where he later succumbed to his injuries.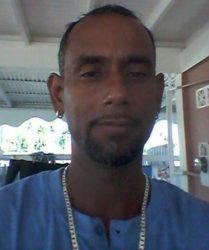 Residents of the village told Stabroek News, that GPL workers were summoned, after an excavator which was in the process of cleaning the drains in the village, had damaged one of the electrical wires attached to the pole. According to one woman, the excavator hit the utility pole, which resulted in the wire being damaged.
One of the residents said, "He climb up and I see he did strapping himself, but the post was already leaning". She relayed that a short while after she saw the pole, "cracking at the bottom. I see the post coming down and I start fa scream".
Another eyewitness, Chan Khempadoo told Stabroek News, "He climb up the post and carry up wire and suh, and all wah you see the post make so, and the guy fall down". She further stated, "When you watch, he face deh in the hole  wah deh in front ah me here". Residents relayed that the man fell unto the post, face down in a nearby pothole.
When this newspaper visited the area yesterday, workers attached to GPL were observed replacing the pole that had come crashing down, with a brand new utility pole.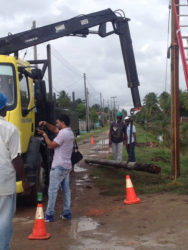 Clifford's wife, Mohanie Clifford also known as 'Sharon', stated that when she heard of the incident she rushed to the hospital, where she discovered her husband in the emergency room being treated by medical professionals attached to the hospital.
"The doctor allow me to go in and see him, they were trying to pump his heart to get it to work, but it was like it already gone too far", the teary-eyed woman said. She noted that her husband suffered a broken arm and major internal injuries.
She said the father of two, was a, "generous, loving and hardworking man". She stressed that her husband's main commitment was to his family, noting that the death of Clifford is a major blow to the family. When Stabroek News visited Clifford's home, his family was still recovering from the shocking news of the death of their loved one. He leaves his wife, two children, ages sixteen and nineteen, other relatives and friends to mourn.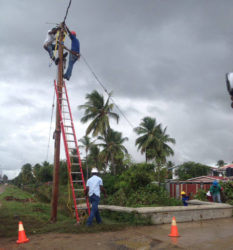 Stabroek News learnt that Clifford had been with the GPL for over twenty five years as a linesman. His family relayed that he was recognized sometime last month for his long service with the electricity company.
A post-mortem examination is expected to be conducted on the body sometime during the week.
Around the Web