The investigation into last Friday's fire at Vigilance, East Coast Demerara which claimed the life of three-year-old Bianka Sancho has been completed and the Guyana Fire Service (GFS) has determined that the blaze was caused by an illegal power connection.
A source close to the investigation on Tuesday confirmed with Stabroek News that the probe has been completed and it has revealed that the fire was electrical in origin. "The improvised wire that carried electricity to the house was overloaded which resulted in a breakdown and the fire started", the source said.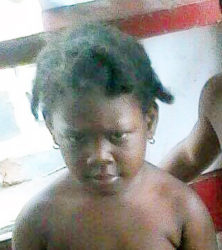 The two-storey house in  Vigilance South Squatting Area, East Coast Demerara went up in flames around 7am last Friday, leaving Bianka dead and her family, including her three other siblings homeless.
Stabroek News had previously reported that at the time of the fire, Lovern Sancho and her children were asleep in the top flat of the house. Lovern and Briana were sleeping in the front bedroom of the house, Isaiah and Moses were sleeping in the middle bedroom and Bianka was sleeping in the last bedroom.
Bianka's burnt remains were discovered in front of the last bedroom of the house, which she shared with her parents, Lovern and Dellion Sancho and three other siblings: Isaiah Sancho, 5, Moses Sancho, 4, and three-month-old Briana Sancho.
The Guyana Police Force in a press release said that enquiries had revealed that Lovern and her children were sleeping in separate rooms when they were awakened by the smell of smoke and found the house partially engulfed in flames.
As a result, the police said, Lovern rushed her two sons, Isiah and Moses along with her youngest child, Briana to safety, and was returning for Bianka when the upper flat caved in, preventing her from entering.
The GFS was summoned and they quickly extinguished the fire.
Around the Web