China's new ambassador to Guyana, Cui Jianchun was yesterday accredited during a ceremony at State House.
According to a press release from the Ministry of the Presidency, President David Granger, speaking at the Accreditation Ceremony said that the country will be looking to China for co-operation and assistance in achieving a 'green' state as that country shares similar sustainable development goals.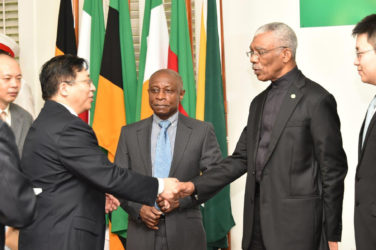 "…Guyana's own 'green' agenda is consistent with China's objectives… Guyana, this year, will place an additional two million hectares of its territory under conservation… Guyana looks forward to intensifying cooperation in the adoption of clean, green and low-carbon technologies and renewable sources of energy during your tenure as Ambassador," the release quoted Granger as saying.
The President noted that the two countries share common values such as mutual respect for each other's territorial integrity and sovereignty, mutual non-interference in each other's internal affairs, cooperation for mutual benefit, respect for treaties and international law and the maintenance of peace and security, the release added. Meanwhile, according to the release, Jianchun, who replaces Ambassador Zhang Limin, noted that as the countries prepare to celebrate 45 years of diplomatic ties this year that opportunity must be used to forge new bonds and deepen ties between the two States.
"Guyana is an important country based in the Caribbean region with its rich resources and hardworking people… The Chinese government values the traditional friendship between our two countries. We stand ready to taking the opportunities of the 45th anniversary of our diplomatic relations this year. We stand ready to bring the Chinese and Guyana Government relations to new heights, to new benefits for our countries and peoples," the release quoted him as saying.
Around the Web