The Government Analyst-Food and Drug Department (GA-FDD) has approved a new label for the Wieting and Richter company's bottled water after it was revealed months ago that the previous one was illegal.
Stabroek News had reported that the Wieting and Richter Ltd. Company, which produces and bottles the 'Crystal Spring Natural Hydration H20,' had plastered a small white sticker on the label of the bottle to hide a section that read "Organically treated with Antinfek 10H by Dove Biotech."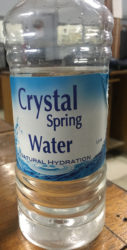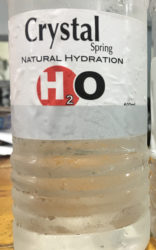 A company spokesman had explained that they blocked out the label due to a controversy over the use of the chemical, which it had since discontinued using.
In addition to the company blocking vital parts of the label from consumers, Head of the GA-FDD Marlan Cole had also explained that since the label did not have the word 'Water' on it, it was not allowed to be on the market.
The company subsequently submitted a new label to the department for review and on Tuesday Cole related that it was approved and the company has since started to use it.
He added that the company has also assured the department that it has stopped using Antinfek to treat the water. "They have stopped using it and they are in full compliance with the department," he said.
The new label features a new colour and also has the word 'water' on it. Instead of saying it is being treated with Antinfek, it says the company is currently using a Carbon Filter and Ultra Violet light to sterilise the water.
The bottled water has since been restocked on the shelves from which they were pulled for having the illegal label.
Around the Web