Promising to do her best as new Minister of Public Health, Volda Lawrence on Wednesday took up her new office at the ministry, while her predecessor Dr. George Norton went to take up his new role as Minister of Social Cohesion.
Stabroek News caught up with Lawrence at the Ministry of Public Health's Brickdam, Georgetown offices on Wednesday as she went to have the minister's office officially handed over to her by Norton.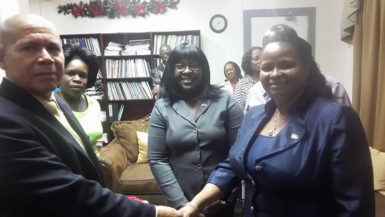 "I don't know about excited, but I will do my best," a calm, smiling Lawrence said, when asked if she was excited to take up her new post.
President David Granger on Tuesday announced the reshuffle of his cabinet, with the embattled Norton being reassigned to the Ministry of Social Cohesion.
Granger, who only last month declared that he was satisfied with the performance of his ministers, also announced that Lawrence, who previously headed the Social Protection Ministry, would replace Norton, while Minister of Social Cohesion Amna Ally would head the Ministry of Social Protection.
Although he said that he was "quite happy" with Norton, Granger, in a recorded statement released by the Ministry of the Presidency, noted that criticisms over the last year influenced the decision to remove him. "I felt that the criticisms were detracting from the Cabinet as a whole and as a result I thought it prudent and timely to make the changes at the beginning of 2017," he said.
While he did not mention what the "criticisms" were, Norton has come under tremendous pressure after he misled the National Assembly about the single-sourcing of a house converted in a drug bond, for which he was forced to apologise. He is now facing the Privileges Committee over the same issue. Of Lawrence's appointment, he said that she would bring "certain managerial skills" to the Public Health Ministry. He noted that the ministry has a management problem "in terms of material and human resources and the delivery of services to the various regions in Guyana and I believe she would be ideally suited to that ministry."
Around the Web