Miners were yesterday in an uproar over demands by the Guyana Revenue Authority (GRA) to show their financial records as they argued that the logistics in the hinterland do not easily allow for "receipts with revenue stamps, bills and books" that are required.
They pleaded with the tax collection agency to not only give them more time to get themselves in order but to also revise "new and complex tax measures" introduced in the 2017 national budget that they said will be burdensome and confuse the ordinary miner.
"The problem comes if the documentation will not be accepted. In the interior the type of records we have …may not all allow for the books they want," a miner lamented yesterday at a meeting of the Guyana Gold and Diamond Miners Association (GGDMA), held at its North Road office, to discuss what the budget changes would mean for them.
Chartered accountant and attorney Christopher Ram was on hand to help interpret the measures and to answer questions posed on a number of the changes made.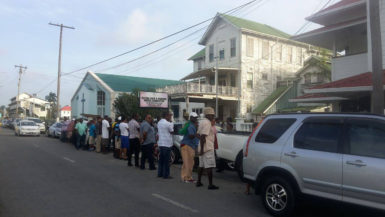 These included, but were not limited to, the potential increase in the cost of production due to the addition of Value-Added Tax (VAT) on certain goods and services, the increase in the tributors tax from ten to twenty percent, the payment of two percent tax at source plus the filing of income taxes at year end.
However, at the forefront of discussions was the need to keep proper books and daily records of all transactions and the punitive measures for failing to do so.
This issue saw vocal responses from the miners, who sometimes were so fired up on the issue that it was hard to hear the contribution being made and the explanations given by Ram. Miners crowded the venue, which saw the audience spill out on to the road.
"The law was always that you have to maintain books and records. Subsection five says 'Nothing in this section shall be construed as exempting a gold or diamond miner from keeping his record from gold and diamond mining activities.' What has changed is that the minister and the law have now provided some fairly significant penalties for failure to maintain account and records," Ram told them.
"What is going to happen now was while there was a small penalty, I think $1000, well it will now be $200,000 or the tax assessed, whichever is greater. So if the tax assessed is $1M, you pay $1M …Then, there is another provision for failure to produce books and records when requested, and the fine is $200,000 and or six months imprisonment," he added.
'Book keeping difficulties'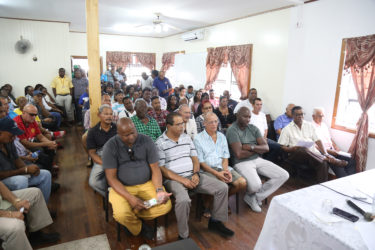 This did not sit well with the miners, who stressed that it was not that they wanted to avoid paying taxes but that government did not put in place a substitute method knowing that because of their location and access, record keeping was extremely difficult.
"Why are we going through all this paperwork for the miners? We don't need any special laws… he is trying to extract the America tax laws wholesale and bring it here. You can't extract a few and bring it here because it works from there to here … The Americans are conditioned to that because they use cards and cheque books and not cash like us.
I went into a burger place (in the US) and saw a person pay for a burger and coke with a credit card. We don't have cheque books and cards in the interior. People don't even accept cheques there. If your truck is stuck in the mud somewhere and you have to pay to pull it out there, do you ask the truck man for a receipt?" one miner queried.
And as he was airing his views, another miner at the back had the support of many. "You throw up your tent and operation and sometimes the rain and all kinds a thing come, because you never know when you gat to move. The bush don't allow for that life.
You gat time to look for books with what ration you buy, how much fuel and all a that? These people is think? I go to an Amerindian village and buy smoke and salt fish and dem things in the bulk. I asking them for a ration receipt with revenue stamp? Where deh getting that from? They might as well tell them use two leaf as the receipt," he argued.
But Ram told them that the Commissioner General should not be blamed for measures implemented.
He stressed that the onus is on the miners to find a way to keep their records or be open to whatever assessments are made of them by the GRA. "As a practical matter, what you have to be careful with is not keeping proper books and records.
Because what happens when you don't is you give the Commissioner the right and the power to raise a best of judgement assessment and he is then going to say the best of my judgement is 'look at your lifestyle, your family expenditure …you driving some of the best vehicle' …You have to be careful of the risk you are taking. You are taking the risk where you are making yourself open for the tax people to make an assessment, because you say you have not kept proper books," Ram stressed.
'Scrutiny'
"Whatever you do, try to keep books that are credible and can stand scrutiny. It is not so much the penalty and the fine…the problem is you are then vulnerable and exposed  to any assessment raised by the Commissioner-General because what then would be your base of objecting to those assessments," he said.
The miners pointed to their contribution to last year's economy and the record breaking declaration of over 440,000 ounces.
"Because at the end of the year the local miners produce more than the big foreign companies and they (the larger companies) are entitled to everything duty-free. So why our miners in this country don't have access to the same benefits?" one miner, Mr. Cosmos, asked.
 'Show your contribution'
GGDMA Executive Secretary Tony Shields reasoned that when miners request concessions and tax benefits, they should be able to show that they have been observing the law and have been declaring true figures for their operations to improve their negotiating power.
"Now, we don't want to say take away the benefits that the big companies are getting, we want the benefits also. It is not only for their mining licences that the benefits are given but they are given for the PLs (prospecting licences) too. In that context, they are not even getting any gold and they have been getting duty-free this and duty-free that and we have pushing this a long time… It is unfair for anybody to be getting all these benefits based on pie in the sky thing that they will invest millions. To miners, to producers, people who are producing must be entitled to the same benefits as in the mining industry. It should be across the board," Shields declared.
"But you can't ask the government to give, if they are not receiving. That is why we are always on a matter of principle to the miners. Declare and sell your gold to the legal buyers. When you do that, you give us the ammunition, like the 440,000 ounces the small miners declared last year. We can now put that into figures and statistics, money the government has earned, and can easily say in not no big long, long, long negotiation, where you have to hire Queen's Counsel and State Counsel. You can now go and say 'Chief, we give you $700B, leh we geh back $200M nah in incentives?' Something like that. So they can say, 'Yes we can work on that,'" he added.
Shield also told miners that there was power in numbers and it was why they should join a group that will represent them and speak out on issues affecting them.
"Something that is most important, and I am pleased to see this crowd today, we need the support of all miners…remember in 2009 when they tried to tell us we got to get permission from forestry ( Guyana Forestry Commission) before we could mine? Well the miners mobilised and it was changed. That is why we have to get this here," he said pointing to a packed office and yard that saw miners reverting to converging on North Road because of a shortage of space.
Around the Web