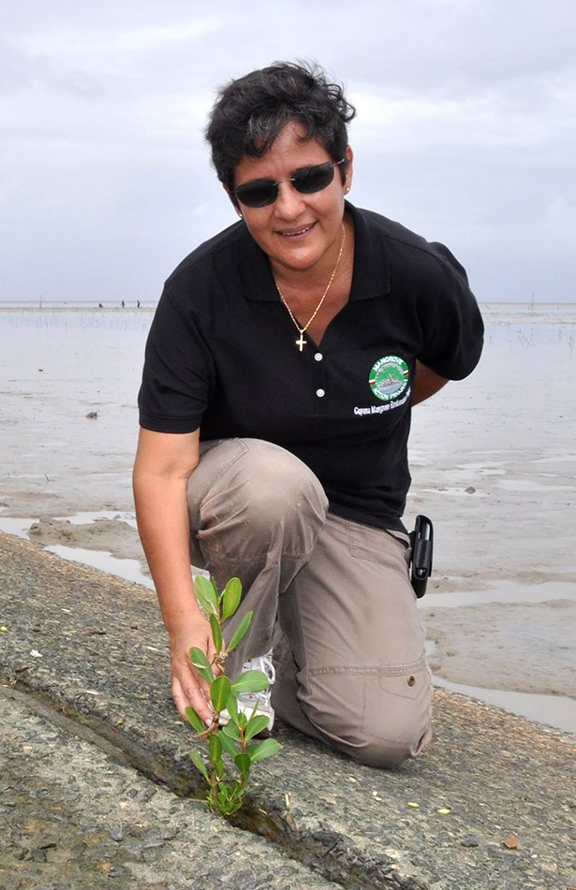 In light of challenges faced during instances of marine mammal strandings on Guyana's foreshores in the past few years, the Guyana Marine Conservation Society (GMCS) has collaborated with several other agencies to establish a local Marine Mammal Stranding Network (MMSN).
According to conservationist Annette Arjoon-Martins, who sat down for an interview with Stabroek News, it all started with an invitation extended to her by Dr Nicholas Waldron to make a presentation on 'Marine Mammal Stranding' at the 29th Biennial Caribbean Veterinary Medical Conference hosted by Guyana, last November.
In her presentation, Arjoon-Martins touched on the various incidents of marine mammal stranding between the periods 2009 to 2015.
These included a Baleen whale at Almond Beach, North West District, Essequibo Coast, in 2009, a Killer whale at Almond Beach, in 2010, a Sperm whale on the Kitty foreshore, Demerara, in December, 2014, a West Indian manatee on the East Coast Demerara, in 2014, a Pygmy sperm whale at Number 37 Village, West Coast Berbice, in January, 2015, and another male sperm whale at Suddie Beach, Essequibo, in April, 2015.
She also made mention of what has been a notable increase in the number of sea turtles found bobbing in the Demerara River, and along the coastal waters.
In most instances, these sea turtles were said to have ingested scraps of plastic which they had mistaken for jellyfish, and would have suffered infections which trapped gas in their intestines. Prevented from being able to dive and feed, they faced a slow painful death by starvation.
It was as a result of her participation at the conference that she was able to network with Dr Ayanna Carla Phillips, the region's lone Marine Mammal Medicine and Aquatic Animal Health Veterinarian, who offered her services as an expert to the GMCS.
The network in itself will focus on forming a competent and resourced team to respond to marine mammal stranding, in a manner that will have little or no health effects on residents.
Commenting on past experiences in dealing with stranded whales, the local conservationist referenced the aftermath of the whale stranded at the Kitty Seawall, where the stench which emanated from the dead whale caused great public discomfort for several days.
"With the help of the minister of the then Ministry of Public Works, Robeson Benn, we were able to mobilize a team who were able to respond to the moored whale.  However, they failed miserably due to their gross underestimation of the animal…it was a real, informal collaboration in more ways than one…"
Even as the network will work to ensure the availability of a well-resourced team to deal with future marine mammal strandings, Arjoon-Martins is adamant that there is need for more research to determine the possible reasons for the occurrence of whale strandings on Guyana's shores.
"Until the first whale washed ashore, I was not aware of these things. I was so focused on sea turtles that I did not have a clue that whales were traversing our coastal waters… a big part of what we need is research. We know we eat Red Snapper and Gilbacker, but we don't know much about these resources, only now because the oil industry is developing, we are sort of now getting the information," she said.
"Here is where we are starting with a blank slate, and here is where we are looking to partner with the companies who are operating in our marine environment to share findings of research," she added.
However, she expresses hope of local capacity building in these very fields in the years to come, so as to limit the dependency on international researchers for information.
"What stunned me the most, was finding out that there are no marine biologists in Guyana, not a single one. If we are talking about building the capacity at GMSC, we need to have a marine biologist, we need to have marine mammal observers who would be able to go out on ExxonMobile's boat, and come back and talk to us, and educate us," the conservationist noted.
"Ideally, we would like to have training of our own marine mammal observers, rather than depending on the foreigners who are in and out, and leaving with all the knowledge," Arjoon-Martins stated.
And while continuous support has been provided by counterparts in Suriname and Venezuela, Arjoon-Martins is working to establish a way to facilitate interactions between University of Guyana students and PhD candidates from international universities for research purposes.
"We want to go even further, to include the Florida International University where Dr Maya Trotz is [based], and figure out a way to get her PhD students to come down and to research with our UG students," she said.
In the meantime, the local conservationist and her team will be working with the Trinidadian Mammal Stranding Network along with a manual provided to them by Suriname, which would see them being better equipped to handle any future marine mammal stranding.
"So it's not a case where we are reinventing the wheel, we already have the manual and we will be working with it," she said.
Around the Web