The police were up to yesterday afternoon trying to view surveillance footage which monitors the Tower Suites' Club Privilege, as they continued to investigate a shooting incident which occurred early Sunday morning during which several patrons were reportedly injured.
Stabroek News understands that around 3 am on Sunday there was an exchange of gun shots inside Club Privilege located in the Main Street hotel, which resulted in injuries.
While the details surrounding the incident remained sketchy, information revealed that no one was seriously hurt, but that management had failed to make the necessary report to the police. It was not until Sunday afternoon when an injured person provided the police with information that they were made aware of the incident.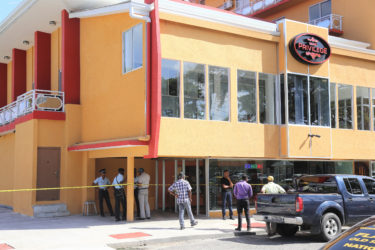 Before investigators arrived at the scene, the area had been cleaned; spent shells were picked up and there was no trace of any blood. However, there were visible holes in the wall of the club, which confirmed that shots had been fired inside.
When this newspaper visited the scene yesterday, the area which leads to the club's entrance and the parking lot had been cordoned off as a crime scene and the police were present. Investigators were also seen interacting with staff members.
A source close to the investigation said the sleuths revisited the scene later yesterday during which they managed to obtain statements from several persons including the security staff, bartenders and one of the victims. Up to press time last night, the tape was still in place and aside from police officers, there was very little activity outside the club.
However, several checks made at various hospitals to locate the other victims proved futile.
The police have since expressed disappointment over the action taken by the management in a bid to cover up the incident which occurred at least one hour beyond the curfew.
Around the Web