After managing to elude the police for almost eight years, murder accused Charles Chapman, who was on Friday arrested in relation to a wounding incident, admitted to fatally stabbing his former lover in 2009.
Chapman called 'Frenchy,' a former solider and seaman was on the run since March 12, 2009, when he fled after he allegedly stabbed Savitri Arjune, 34, a mother of two of Lot 382 Herstelling, East Bank Demerara (EBD).
Crime Chief Wendell Blanhum yesterday told Stabroek News that Chapman, who was wanted by the police over the years, was arrested on Friday at Central Police Station, New Amsterdam, Berbice in relation to a wounding incident.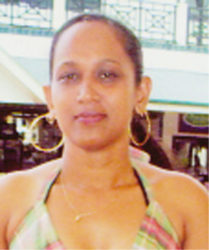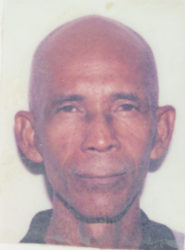 Blanhum said that he was questioned about his whereabouts in Berbice and revealed that he had fled to Suriname about eight years ago after murdering Arjune, but had returned to Guyana three years ago.
Following the incident, the Guyana Police Force had issued a wanted bulletin for Chapman.
This newspaper had previously reported that Arjune, who was an employee at Roti Plus, was allegedly stabbed to death by Chapman, minutes after she left home for work.
Reports had revealed that around 6 am as Arjune was near the EBD Public Road, she was confronted by Chapman and stabbed at least three times; one of the wounds was to the heart.
Chapman had earlier parked his minibus on the road, telling the conductor that he would be back. He then walked into the street where Arjune was.
According to additional reports, the conductor later saw him returning to the vehicle with a bloody knife in his hand. But when he tried to question him, the man attempted to attack the conductor who ran away and informed the police.
The bus was later found abandoned near the Demerara Harbour Bridge.
Months before her death, Arjune had made a firm decision not to return to the home that she shared with Chapman. However, this was met with threats to her life and her children's. Several days after she moved, she had a knife pulled on her and this resulted in her sustaining a small cut to her abdomen.
The two had shared a very abusive relationship.
Around the Web