Former Director of Prisons, Welton Trotz, who was charged with sexually assaulting a prison guard, had the charge against him dismissed today for a lack of evidence.
Trotz made his way before Magistrate Fabayo Azore who made the ruling in camera.
Subsequent to the ruling, Trotz, speaking with news agencies, stated that he knew when he was charged that he would have been vindicated, because he had not done anything wrong.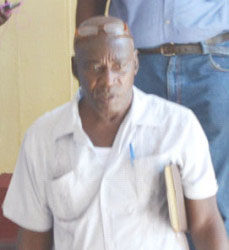 Now that the matter has been struck out, Trotz stated that he will return to church, speak to his people and later on, he will make a decision on what he will do. He added that the Magistrate had been fair in the proceedings, given that he had to give evidence and call witnesses.
Trotz firmly stated that he will not return to work even if he is asked to do so, granted that there are persons in and out of the system who conspired against him.
He added, "There is justice in the courts of Guyana".
Attorney Patrice Henry who represented Trotz, along with attorney Roysdale Forde, when speaking with Stabroek News, expressed satisfaction in the fact that the Magistrate would have critically analyzed the case and made the ruling based on the inconsistencies presented throughout the trial by the complainant.
Around the Web