A Sierra Leone national was yesterday fined and ordered deported after he admitted to entering the country illegally.
Samuel David, who appeared before Chief Magistrate Ann McLennan in Georgetown, pleaded guilty to the charge that he illegally entered the country on December 22, 2016 at Lethem.
According to Prosecutor Neville Jeffers, on January 7, David attempted to make a purchase at King's Jewellery World with a suspected forged credit card.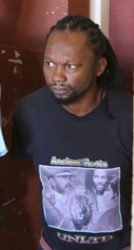 As a result, a report was made to the police and he was later arrested.
While in custody, Jeffers said, David presented his passport to the police, who discovered that there was no record to show that he had entered Guyana legally. David was questioned in relation to the matter and he stated that he entered Guyana on December 22, 2016 through Lethem from Brazil and did not present himself to the nearest immigration officer.
In response to the account presented by the prosecution, David told the court that he lives in Brazil, where he has been staying for 15 years, and he would usually cross the nearby border to shop.
He added that his credit card was verified by the police and found to be valid.
The Chief Magistrate subsequently fined him $30,000 or four weeks in jail.
Upon payment of the fine or serving of his sentence, he is to be deported.
Around the Web