A 37-year-old labourer of Wine Bush, Leonora, West Coast Demerara was stabbed to death around 4 pm on Monday and his 16-year-old attacker is on the run.
Kawall Shivnauth called 'Rupee,' sustained two stab wounds around the region of his heart, a slash to his lower abdomen and one to his hand. He was pronounced dead on arrival at the Leonora Cottage Hospital.
Reports are that he was consuming alcohol when an altercation ensued between him and the youth, known as 'Helicopter.' The youth was also said to be under the influence of alcohol.
One of the sons of Shivnauth's female companion who was with the attacker at the time has been taken into police custody. Reports are that during the brawl, he hit the man behind his head with a bottle.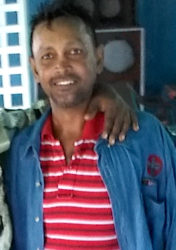 An eyewitness told Stabroek News that he was returning from the seaside after watching a game of 'sal-pass' when he heard the commotion and went to investigate.
He said he heard the youth telling the man, "aye bai, you trouble me sista; she is a lil sista."
Another report suggested that dispute started after the youth asked the man to purchase wine for him and his friends and he refused.
The eyewitness recalled that he heard Shivnauth saying, "You want see who is bad man" and he lashed the youth to his forehead with a bottle. Shivnauth had already sustained the chop to his hand.
According to the eyewitness, the youth turned to walk away when he rubbed his injured forehead and realized it was bleeding. He then rushed up to Shivnauth and asked, "aye bai you shed me blood."
The boy then whipped out the knife and dealt him the stabs and slashed him and he fell to the ground and started bleeding profusely.
The eyewitness said he ran home for a shirt and strapped the wounded man to hold the intestines in place.
He said that by then a large crowd gathered at the scene and he begged some of them to call a taxi to take the injured man to the hospital. But they were advised not to take him because it was a "police matter."
Another eyewitness said he and others called the Leonora Hospital for an ambulance but were told that none was available.
Lalita Mahagoo, with whom Shivnauth shared a visiting relationship, said Sunday was his birthday and she spent the night at his house.
She last saw him on Monday morning when he left for work at the Uitvlugt Estate and she left to go home.
About 20 minutes after the incident occurred her younger son ran home and told her, "Mommy, Rupee in a pool of blood, come quick!"
In tears, she told this newspaper that when she got there she "could not bear to see him in that condition…"
Reports are that the suspect who moved from Wakenaam a few years ago to live with his mother and stepfather, would "always walk around with a long knife."
Around the Web