Technical assistance to the fisheries industry from China is on the agenda, according to a press release yesterday from the Ministry of Agriculture.
It reported on a courtesy call by the new Ambassador of China, Cui Jianchun on Minister of Agriculture, Noel Holder at his Regent and Shiv Chanderpaul Drive  Office.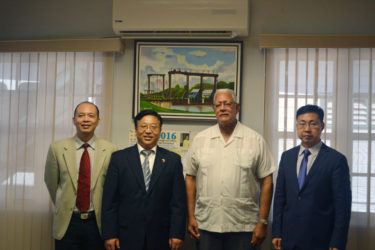 The release said that  Holder in welcoming the Ambassador to Guyana expressed appreciation for the strengthened relations that exist between not only China and Guyana, but also the entire Caribbean.
"Guyana has benefited from the assistance of the Chinese Government in the past and we welcome the further advancement of relations, which the two countries successfully shared, especially in the areas of infrastructure, electricity and technology…however, we must catapult agricultural advancement also," the Minister said.
Ambassador Jianchun expressed satisfaction at Guyana/China relations, the release said, noting that over the next few months new areas for future collaboration will be heightened through discussions with the Ministry of Agriculture,.
This year,  Guyana's fisheries industry should also see technical assistance being given  by China, the release said without expanding.
Meanwhile, Political Counsellor, Yang Chengi  extended an invitation to the Agriculture Minister to participate in China's International Horticulture event which will run from April to October 2019 in Beijing, China.
"The event is used to showcase China's biodiversity and as such, I think it is an important event for Guyana to display biodiversity- both tapped and untapped potential," he said.
Around the Web