The city council is waiting on the Ministry of Public Infrastructure (MPI) to obtain the necessary funds to assist it with repairing the sinkhole that recently opened up on the seawall road, Kitty.
This is according to Chief City Engineer Colvern Venture.
A small sinkhole had initially developed late in December and since then MPI along with the Mayor and City Council (M&CC) had collaborated and enlarged it in order to apply a temporary fix. One of the engineers on site had explained to Stabroek News that the depression in the road, which resulted in the formation of the sinkhole, was due to a galvanized pipe bursting and letting water under the road. Because of the water saturating the earth, the road caved in causing a traffic inconvenience on the  thoroughfare.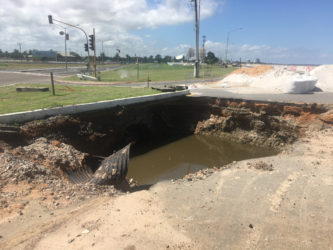 The city had applied a temporary fix to the pipe. However, a week after, more depressions appeared on the section of the road between Kitty byways and Carifesta Avenue, several feet away from the sinkhole, suggesting that the temporary fix  did not work.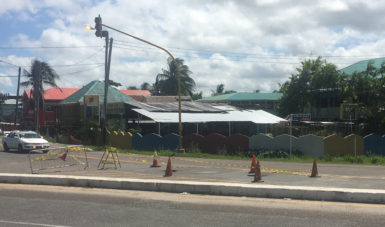 Speaking to Stabroek News yesterday, Venture said that since the rainy season is still on, no work can be done.  Additionally, he said that MPI is currently in the process of obtaining the necessary funds to finance the repairs.
He further explained that the works are more extensive than had been initially reported. Currently there are three tunnels running underground in the area, one running from Stanley Place to the Kitty Pump Station, another running parallel to the seawall road, which he said drains the National Park and its surrounding areas, and another running parallel to the public road straight back to the one at Stanley Place.
"Those tunnels itself have been there for a while and over the years the culverts would've deteriorated and you find that you have some amount of seepage of water because of the corrugated metal being eroded," he added, while pointing out that in order to completely fix the sinkhole, the tunnels need to be rehabilitated.
When questioned about the amount of time it would take to completely fix the problem, he couldn't say. "We have to look at the proposal based on the collaboration with the Ministry and it's not just a quick fix we want. We will have to see what the funds will get," he said, while pointing out that the entire system needs to be redesigned.
Around the Web