Almost a dozen cosmetologists yesterday showed up for work only to find that their workstations, along the Merriman Mall between Light and Cummings streets, had been demolished by City Hall.
On Wednesday night, City Hall workers led by Town Clerk Royston King demolished stalls in the area where the cosmetologists operated. "We are just removing the ugliness to create a picture of excellence and beauty," King had said, while noting that the area where some of the hairdressers and nail technicians operated had "stalls with old wood and vinolay and have left the area looking like a shantytown."
The demolition came two days after Mayor Patricia Chase-Green said that the barbers and cosmetologists operating along the strip had one month to find private spaces to operate in. Chase-Green also pointed out that the decision to clear the area was due to their failure to keep it clean.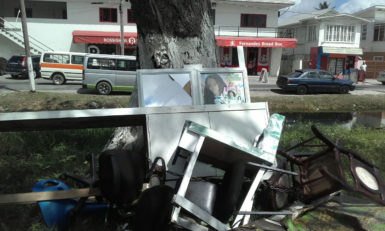 But the cosmetologists yesterday denied the claim and stated that they had been paying to weed the grass and clean the trench in addition to weekly fees for the spaces where they operated. They said that it was a few abandoned spaces that marred the area.  The cosmetologists were outraged and frustrated over the demolition, while noting that they were never given any notice.
They had been relocated to the strip last year from the pavements of America, Longden, Regent and Croal streets after City Hall had embarked on a cleanup campaign. Chase-Green has said they had been relocated to the mall with the understanding that it was a temporary situation.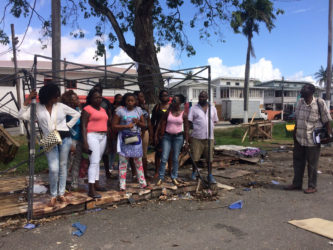 Abigail Charles said that the council should provide permanent structures for her and the other beauty workers to operate in and they would pay the rental fee. She explained that renting a space in a salon is more expensive than operating out on the road. "Give us the permanent structures. We will pay the fees like how everybody pay their fees," she said.
After a suggestion was made to build permanent structures, Chase-Green had said during a statutory meeting that she was advised that the stretch has been designated as an open space and no permanent building should be placed there.
"We are human beings. We have children who we have to send to school, who can become the next president, ministers, a good police and teachers but how are we going to do that and feed we children if we don't get money?" questioned Natasha Lesprance, who was visibly agitated.
She too pointed out that it is not profitable to rent stations in a salon when "single mothers have to take care of 3, 4, 6 children, pay loans and bills."
Lesprance called the actions of the city council "evil and wickedness." "I have become a vendor. My mother was a vendor. I didn't become a vendor because I did not go to school but because I couldn't find a job with my qualification. I am out here because the street provide for me because it allows me to feed my children," she stressed.
According to the woman, the council has been moving them around and it is unfair for them to turn up for work and not be able to work.
Another cosmetologist, Melissa Primo, said "this is a sad situation.
I came and I can't work and customers calling and I have to tell them I can't work because of the situation."
She added that for the months they have occupied the space and they have joined and cleaned the area, and even pay the environmental fee to the council, which raised it from $1,000 to $1,500.
"They never tell we anything and onto now they ain't say nothing still," she said when questioned if they received any notice from the council.
Primo also lamented  the property that was damaged in the demolition. "They damage our property, mirrors and cupboards nobody would replace that… you know how much money we spend to build things and let it look good?" a fellow beautician interjected.
Meanwhile, Eon Andrews, President of the Guyana Market Vendors Union (GMVU), said those at the head of City Hall need to change their "draconian attitudes."
Andrews pointed out that President David Granger is advocating for self-employment and the cosmetologists are trying to do just that but he questioned how they could provide for themselves when City Hall is forcing them out of business.
"I was part of that council and I have seen some of the most …hypocritical things that you have ever seen, and I was hoping that after we would have had our elections things would have changed," said Andrews, a member of the last council.
He added that somebody has to speak to the leadership of the city and his union is prepared to do so and represent the vendors and beauticians.  "Those people at City Hall are not ready for talking and they seem to have no vision and they are not going to do anything," he, however, lamented.
According to Andrews, City Hall needs to focus on other pressing issues, such as collecting taxes owed by businessmen.
Chase-Green said she is not being hard on the barbers and cosmetologists by removing them but was only following public health guidelines, which state that they should operate in enclosed spaces equipped with facilities to sterilise instruments used.
Around the Web