Using his country's experience as a model, former Minister of Energy of Trinidad and Tobago, Kevin Ramnarine yesterday urged that Guyana establish a national oil and gas company to manage its huge oil find but that it be insulated from political interference.
"This company's board and management must be insulated from politics as is the case with Statoil (Norway) because if it is not, you will get a call to hire somebody's nephew," Ramnarine told a forum organized by the Guyana Oil and Gas Association (GOGA) at the Pegasus Hotel, Georgetown, where he was the guest speaker.
"I would recommend that whatever state companies you form, it doesn't have to be all, put part of the equity on the stock exchange," he added.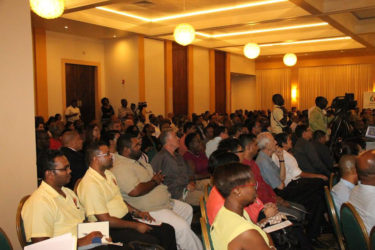 He pointed to Norway's Statoil and Russia's Gazprom among other companies saying that Guyana can earn needed revenue through the establishment of such companies.
But he stressed that the companies must be removed from politics. "There is also the whole issue of political influence in state enterprises in Trinidad. When we look at the Norwegian company Statoil, their Board of Directors are independent, and for example the workers of Statoil get to vote on who should be a director…you begin to dilute the political influence in the company," he posited.
The former People's Partnership Energy Minister recommended that Guyana set up three state-owned companies. "I am going to recommend that Guyana sets up three state enterprises, one to participate in the upstream, alongside with companies like Exxon, one to focus on infrastructural development and one to focus on marketing of products… our new production-sharing contracts in Trinidad allow the ministry to market their own hydrocarbons," he said.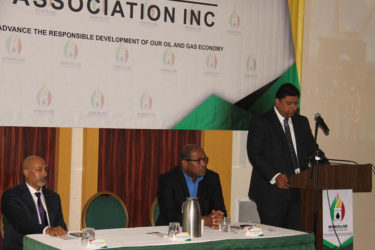 And while outlining the benefits which among others will create employment for persons here, Ramnarine earlier in the day told Stabroek News that government would need to pay its oil industry employees, salaries and wages comparable with the private sector. He said if this was not the case it would mean that persons would take the option of going to work for private oil companies and this would put the government at a loss.
"Our ministry pays salaries within the confines of the public service so it means that the people who work in the public energy sector are the lowest paid in the energy sector. It means they get salaries on par with what the wider public service obtains. What that means is, we are losing people widely in Trinidad because they are getting a lot more on the outside. So there is always a big brain drain," he said.
"I would recommend that a mechanism be worked to pay the people in the oil sector equal to or better than what is paid in the private sector, or else you would end up with your best people in the private sector and your worst people in the public sector. You want your government people to be very strong," he added.
Pay the people
Last night he echoed his views and told Minister of Natural Resources, Raphael Trotman who was present, "So Minister Trotman, pay the people," to loud applause and agreement from attendees.
And while many persons have floated the idea of a refinery being established here, Ramnarine said it can only be feasible if oil is nearer to the shoreline. He predicts that maybe sometime in the future oil and gas would be found nearer to shore but was quick to add that he was no geologist and it was only a prediction based on facts he compiled.
"I would like to cautiously predict that in the years ahead oil will be closer to the shoreline. I don't like to predict but I think it will be. For this discovery to have meaning industries must be built to produce other products and by that (I mean) refining and down-streaming. That must happen but for that to happen oil must be discovered closer to the shore right now it is too far out," he said.
Overall, Ramnarine said that Guyanese should be upbeat about ExxonMobil's presence here more so that yesterday the company announced another find offshore Guyana.
"Talking to a lot of people I am asked, 'what does this mean for the man in the street…what does this mean for the nuts man or the doubles (a famous Trinidad snack) man'. I hold to the view that Guyana's discovery has the potential to dramatically change the economy of Guyana and the rest of the Caribbean. I said that in 2015 and that view has now been amplified.
"When the Liza discovery was made it shook the entire world of oil and gas. It was the biggest discovery of 2015. It is interesting that it is made by one of the best companies in the world. This is not a company that will drop anchor in Guyana and leave. Exxon will be in Guyana for over 50 years. The relationship between Exxon and Guyana is similar to Trinidad and Tobago and British Petroleum. What is fortuitous is that it is made by a company…that is not a fly by night company. I think they will more than likely be your government's partner," he added.
He said that persons here should poise themselves for the future when ExxonMobil begins pumping oil and revenues are garnered by government as their lives would significantly change.
"To the ordinary man it means that the country is going to get richer very quickly. It is then up to the government to share the wealth to the country. Only about five or six percent of the labour force will end up in oil and gas if they choose not to be they should poise themselves with what would be a boom here …the economy would double and triple here…So most of Guyana will not be working in oil and gas.  So it is now up to government to collect the revenues and effectively and spend that in a manner that effectively lifts  all of the people in the country," he stated.
"The average man will see his lifestyle change, will see his level of income reached but an effort must be made to lift everybody, of course not everybody will rise equally. I think if I was a young person in Guyana in my mid 20s I would be looking to get into petroleum engineering, the geology, the petroleum law, petroleum economics. I think the government should already have scholarships lined up and be sending people abroad. In the late 1960s the government of Trinidad sent a wave of persons to study in the United States and they returned and ran the Ministry of Energy. But not everybody can be geologists and engineers we also need technicians operators and so on," Ramnarine added.
Around the Web