In an effort to foster an entrepreneurial spirit in the minds of young pupils, the Enterprise Youth Development Group recently hosted a session on entrepreneurship and the use of social media for students of the Enterprise Primary School and Enterprise Community High School.
The audience was made up of students who ranged in age from 9 to 14 and who were involved in talks surrounding the usefulness of being self-employed. Samantha Sheoprashad, President of the group and the most recent recipient of the Queen's Young Leader's Award, noted that the majority of students, when asked their next step after they finish school, responded that they would look for a job, while a few others expressed interest in furthering their studies.
"That is the ripe opportunity to tweak their mindset to flip from a 'getting a job mindset' to 'create your own job or company,'" Sheoprashad stated.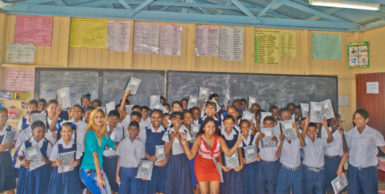 She said the students were encouraged to find a problem within their schools which they can solve to improve their school environments and systems. "Entrepreneurship education offers a solution. It seeks to prepare people, particularly youth, to be responsible, enterprising individuals who become entrepreneurs or entrepreneurial thinkers by immersing them in real life learning experiences where they can take risks, manage the results, and learn from the outcomes," she stated.
In addition, the session touched on the need for community collaboration versus competition to raise awareness on the importance of sharing ideas and working together rather than in isolation. Also discussed were the uses of Google and YouTube for educational purposes and the usefulness and dangers of Facebook.
From working with the Community High students, Sheoprashad said there is a need "for boosting of self-confidence, comprehension skills and helping children with learning disabilities. This is something we would love to assist the school with."
She also noted that the group at this point is only equipped to provide help in the area of confidence boosting, but is open to the support of other organisations.
Besides the empowerment session, two hundred students of the Enterprise Primary School and Enterprise Community High School were the recipients of stationery items on Monday.
Pens, pencils, erasers, highlighters, markers, notebooks and glue were among the items distributed by the Enterprise Youth Development Group, all donated by overseas-based-Guyanese Dolly Rajkumar, to whom Sheoprashad expressed thanks.
The Enterprise Youth Development Group is a registered youth organisation under the Department Culture, Youth and Sport, the President's Youth Award Republic of Guyana, the Volunteer Support Platform (VSP) and the Guyana National Youth Council (GYNC).
Around the Web