With the AFC set to hold its National Executive Conference (NEC) later this month, party leader Khemraj Ramjattan yesterday stated that he will run for the position again amid signs that some of its members want those holding key positions in the coalition government to come off the party's executive.
It will be the party's first NEC since it entered office in a coalition with APNU and questions have surfaced about how the party can effectively represent its views when its senior leaders occupy the office of Prime Minister and several Cabinet positions.
However, at a party press conference yesterday, AFC leaders who hold Cabinet positions were adamant that both roles could be performed simultaneously and Ramjattan said his record speaks for itself. "I want to suspect that I do have some experience now that I am a minister and that will only enhance the position and yes, I certainly I will go forward," Ramjattan said when asked if he will again run for leader if nominated.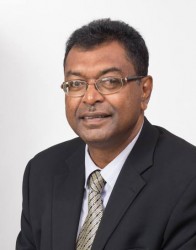 "That is keeping with all parties worth their salt. Not because their leadership have become ministers they then come off. I was an extremely busy practitioner before becoming a minister…but I used to manage. I will be running," he added.
The AFC's NEC will be held on Saturday, January 28th, 2017 at the Vreed-en-Hoop Secondary School in Region 3. This will be the first occasion on which the party will host an NEC outside of Region 4. The NEC will include elections and the 16 positions to be contested are Leader, Chairman, Vice-Chairman, General Secretary and 12 National Executive Member slots.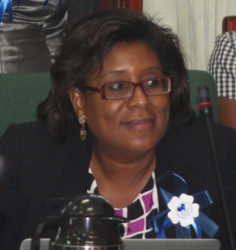 The party has an Electoral College system comprising of 275 delegates who are allocated by region with the most, some 75, coming from Region Four followed by Region Six with 40 and Region Five and Ten comprising 20 each. All the other regions have 10 delegates except for Region 3, which has 15. It is unclear if delegates have been allotted in terms of the population size of the various regions or the number of members in each. Though they both have 20 delegates, Region Five's population is larger than Region Ten's.
The party's Women for Change (WFC) and Youths for Change (YFC) have 10 delegates each while its USA Chapter has 9. The Canada and Caribbean Chapters both have 6 delegates apiece and the United Kingdom Chapter has 4.
The deadline for nominations is noon on Monday January 23rd, 2017 and nominations from the floor will not be permitted. A list of all nominees will be announced following the nomination deadline.
Voting will be by secret ballot and a Returning Officer who will be named at a later date will preside over the elections.
'Challenge accepted'
Ramjattan says he knows that other members might be nominated to serve as leader of the party for the next two years and he said he welcomed it as it shows the democratic nature of the AFC. His stance was echoed by party executives Cathy Hughes and David Patterson, Minister of Public Telecommuni-cations and Public Infrastructure, respectively, who both said that they, too, would accept a nomination to be leader of the party.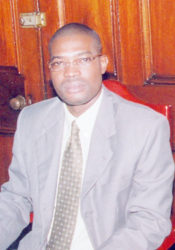 "If I do have to challenge, I will. From the time I have joined the AFC nobody has ever declined or stepped down from a challenge. The party decides. So, if I am nominated, I will stand and let the delegates decide who shall be the leader for the next two years," Patterson responded.
"Why would the ladies want to be left out of the management of the party?  We are a young party and I think that is what is exciting about the AFC. We love a challenge. We play hard, we discuss hard and we work hard. We don't feel any impediments, that there is a way you must do this or that and that a leader must not be challenged and that kind of thing. It is an open game. Our members are the ones that will make the nominations and we are up for the challenge," Hughes asserted.
Some members of the party have privately said that they do not believe that the party's leader should be a member of the government since they believe that person could not effectively represent party views. "I don't think the leadership should hold government office…they can't fairly represent the party…How could they? Look around, the party don't agree with the parking meter but do you hear Moses (Prime Minister Moses Nagamootoo) or Khemraj publicly denouncing it? No, and that is what I mean when I tell you that," one member, who asked not to be named, told Stabroek News.
But another member, who will be contesting for an executive position at the NEC, disagreed with his colleague, saying that results from the conference will show that most members want their party leaders to hold government offices. "You from time to time hear an argument that the leader should not be in government but when it comes to anyone else, sometimes even those talking, no one wants to step up to the plate. It won't happen because the thing is the persons who are ministers of government now are the persons who work hardest for the party. Who will want to be on ground, investing their time and most times (their) own money? Who will want to be travelling here, there and everywhere meeting the people, finding out what who wants, what who is not getting, tell me who? None of them that are always quick to say 'change is needed, change is needed,'" the member stated.
'Silent'
Further, the member added, "Grumbles you will hear and that won't stop. I think what should be noted here is that our members are not so much against leaders being members of government, it is just that they get very vocal, even among us executives, when those there in Cabinet sit in Cabinet and don't at least make known what is the party's consensus on an issue. That is what nearly all will tell you what irks them. That, my friend, is the real issue; that you have Cabinet ministers being silent on issues that they themselves know won't be accepted by the party."
But when Ramjattan and the ministers present at yesterday's press conference were asked if they felt that leaders can effectively play distinct roles in the government and the party simultaneously, they all agreed.
"I believe so, because being in the two forums you are especially equipped with the knowledge and information that is required to fundamentally move forward with both party and government. It is a credit to that officer who is in both I believe. Not that it means that someone who is outside of one can't have ideas that are better. But the trouble is, we should not be exclusionary to the one who has worked his way to get into government  and having gotten into government he is now excluded from the party and so on," the AFC Leader and Minister of Public Security reasoned.
He argued that automatically excluding  a leader from being in a coalition government role was unfair to the person who would have worked hard to get there and rewards a non-worker though the process of entitlement .
"What it does sometimes, it would mean that if you are not party leaders, it would mean that people who are called second brass not earning anything but simply becoming entitled to it. We don't want entitlement we want you to work hard because that is how you will become into a better leader," Ramjattan stressed.
'Critical'
Hughes said that the ministers and parliamentarians are committed to the development of the party and with the AFC not having the amount of members like the two major political parties, the PPP and the PNCR, all skills were critically needed.
"We are all committed to the future of the AFC, so as much support that all of us can give to the continued development of the AFC is critical. We are relatively smaller compared to the other two parties, which means in terms of skills and experience, we want to be able to utilise all we have in the party structure. That is why we don't want anybody to be excluded from making contributions at whichever level they would like to," she asserted.
Ramjattan contended that in relation to almost every issue of the day, the AFC has been a decision maker within the coalition. The Public Procurement Commission was especially singled out as a win for the AFC since it was commissioned last year, more than a decade after it was legislated for. He said that the party has always been one that has been vocal about issues despite being verbally abused and called derogatory names such as "wishy washy," among others .
"We are part and parcel of all decisions of the government…. we are in government with seven cabinet members and 12 parliamentarians and we are doing a wonderful job. We are doing that which is needed at this point in time and we feel we are doing well," Ramjattan posited.
"I had put my mouth so much in the Freedom House (PPP headquarters) table there that I got expelled for it. You think all of a sudden Ramjattan will just shut his mouth?" he questioned.
Around the Web