A breathtaking photograph of a benab with children standing around outside and the Pakaraima Mountains in the background planted a seed in young Odacy Davis's mind and though it was not watered for many years it continued to grow and today it is a full-fledged tree; the love she developed for the environment is now her career.
Davis was on the road to becoming a medical doctor—fulfilling the expectation of her relatives—but days before she took up a scholarship to make that a reality, she realised she was stifling her dream and made the bold decision to throw caution to the wind.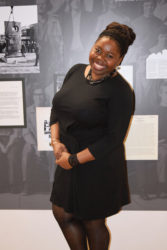 Since that time the conservationist has worked with all the conservation organisations in Guyana—the Environmental Protection Agency, the World Wildlife Fund, Conservation International and Iwokrama. Her work focuses on protected areas management, and natural resource management. She has worked with mining companies undertaking environmental assessment and has also trained rangers.
For her, the best part is working with Amerindian communities and creating plans on how residents can apply best practices in managing natural resources. However, most of the time she ends up learning from the residents, she disclosed.
Looking back 16 years ago, the Alness, Corentyne resident said it had been expected that she would become a doctor and follow in her uncle's footsteps. However, her country upbringing may have prepared her for her profession as she shared with the Sunday Stabroek that her "very good childhood" was connected to the environment as her dad, a farmer, would take them fishing and she loved the animals around.
As a child, she was fascinated with a book that had images of different areas in Guyana. It was in that very book that she saw the photograph which gave her the urge to visit its location. She concluded that all of the above helped form her "first connection with nature and the environment."
As a child she had always wanted to attend Queen's College and got the opportunity to do so in Sixth Form where she studied Science, after which she applied to the University of Guyana and commenced a degree in Biology with the intention of moving into medicine after the first year.
"I really enjoyed doing Bio. It was a lot more to do with plants and animals and the environment…," she recalled. When, after the first year, she indicated that she wanted to complete the degree, her parents agreed since they reasoned she would then get a scholarship to study medicine in Cuba.
While reading for her degree, Davis volunteered at the zoo and was trained which saw her working on the weekends and giving talks to make the zoo experience more meaningful for children and their parents. She eventually volunteered there for eight years and it was a rewarding experience.
"That really helped me to start thinking about what I really want and what I love," Davis shared adding that conducting research at Iwokrama also helped to further develop her longing to work in the area.
Scholarship
While deep down she knew what she wanted, Davis said, she still applied for the Cuban scholarship, but was denied the opportunity. And while her parents, especially her mother, were disappointed the young conservationist said she had to "hide my elation."
On the advice of a relative she then applied for a teaching job and gained employment at the St Joseph High School where she remained for five years.
"I can safely say today it is the best profession on earth… It is really an honour to teach… you start to appreciate what your teachers did for you," Davis said adding that she taught Integrated Science and Biology.
"It has been one of the most rewarding jobs I have ever had," she continued and elaborated that there is much joy when she meets her past students from time to time and they are doing well for themselves.  "It was my first long-term job and I think that was one of the best decisions I made. The job taught me patience and the value of helping to mould young people."
But even as she taught, her mother did not give up on her eldest being trained to be a doctor and encouraged her to apply again for the Cuban scholarship. This time she was successful.
But in the run up to travelling to that country she was granted the opportunity by Iwokrama to conduct some training in the Rupununi and since she had never been to that area she quickly said yes. It was a month before she would have left for Cuba and on the long journey, part of which she slept through, she woke up and suddenly saw the actual scene from the photograph she had seen so long ago.
"At that point I knew… It was the most inspiring week of my life… When I left there I was sure that this is my passion. This is what I want to do," she said.
Before telling her parents she visited the Office of the President and informed that she was no longer interested in the scholarship. Surprisingly, when she broke the news to her parents they were both supportive.
"That has been the story… And I don't really regret making that decision," Davis said.
Late last year, Davis returned from the United Kingdom where she read for a Masters in Conservation Leadership at the University of Cambridge.
She described the experience as an "amazing one" as she was in a class of 22 students from 19 different countries. The programme trains people who have already worked in the area for them to become trainers of groups of people to be managers and leaders in conservation. They met leading conservationists and her high point was meeting Sir David Attenborough, best known for writing and presenting the nine Life series, in conjunction with the BBC Natural History Unit, which collectively form a comprehensive  survey of animal and plant life on the planet and is widely considered "a national treasure in Britain."
He had visited Guyana and Davis said she enjoyed chatting with him about that experience.
"It was like a dream coming true…," Davis said.
Because of where she grew up, she fell in love with Indian food and culture and had always wanted to visit India. She was able to spend a month there, which was a "humbling" experience for her. "I started to appreciate the very little things that I have. And even though they didn't have, most of the people I came into contact with were just happy."
She visited rural areas where as a black person she stood out and people would touch her skin and hair; and even though this was uncomfortable at first she eventually adjusted.
'Love my country'
Davis is one of those persons who is very passionate about Guyana and can sell it to a listener in seconds.
"I love this country and I know it is the most beautiful country on earth, when you have had a chance to see the beauty of Guyana you really want to be here. This is my passion. I have been offered a job somewhere else but I want to be here," she said.
Her best contribution, she believes, would be to help posterity to appreciate the country and to manage it. She pointed out that while she is "not very old, I am not very young either" so she wants to help to build and mould future conservationists "help to inspire young people to go into a career of conservationist."
Since returning to Guyana Davis said she has been resting but this period is up and she would soon be looking to do something in protected areas management and environmental policy.
Speaking about her childhood Davis said she has had a very humble upbringing and is the first of seven children for her parents, who did a very good job in mentoring and raising them.
"Our lives are built on their faith in God and strong moral values, showing that you have integrity and you are honest. These are the values that help me in my profession," Davis said giving praise to God and revealing that her father is a pastor.
She said it was important for parents to help their children find their way and give them the assurance that while things might change their passion will not.
In the future, Davis hopes to develop a course for the University of Guyana focusing on conservation leadership for under graduates. In the long term she wants to be effective in helping Guyana to shape plans for conservation management. "I have a very good understanding and I know what is available and want to do something that is meaningful at this stage in my life. I love new challenges."
Davis is also a lover of music. She sings and plays the bass guitar and also dabbles in interior decoration; she loves to work with young people and the elderly as well.
Around the Web