The army's move to enforce a strict policy against members having clearly visible tattoos has left one potential recruit with dashed hopes as he says he is unable to pay the huge cost to have his ink removed.
The 21-year-old, who asked not to be named, told Stabroek News yesterday that although he was informed that he performed exceptionally well in the entrance exam for the Guyana Defence Force (GDF), the tattoos which span the area between his elbow and fingertips on one of his arms are a sticking point.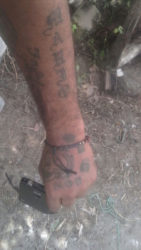 He said while at Base Camp Ayanganna last month, he showed his tattoos but was never told that they would diminish his chances of gaining entry. He was later allowed to write the entrance exam. He was horrified when he was told last week that while he passed the exam, he had to remove the tattoos before they could proceed with the admission process. It will cost approximately $400,000 to have the tattoos removed; money that he doesn't have.
Though the man and his relatives have expressed disappointment at the situation, Major Delbert George, who heads the army's Public Relations Department, yesterday said that the GDF has a longstanding policy that tattoos should not be visible on a rank while wearing military attire. "At some point, there was a relaxation of this policy when we were not getting enough entrants," he told Stabroek News.
Major George said that at present one will find ranks who have tattoos but it is now required that they be removed if they are visible when in uniform. These ranks have until March 31, 2017 to have them removed, according to a Force Order in place, he informed. He did not want to speculate on what would happen if ranks do not adhere to this order.
Told of the young man's case, Major George expressed certainty that "somewhere along the line he was told that he would be allowed to write…. [but] at some point the tattoos would have to be removed." He stated that it was not a case of discrimination but rather just the reinforcement of the army's policy.
The young man said that his brother is a serving member of the army and he wanted to follow in his footsteps, which prompted his attempt to enlist. He said when he went to write the entrance exam, he was clad in a long-sleeve shirt and was asked whether he had tattoos. He said that he replied in the affirmative and showed the officer his tattoos. He said that he then wrote an exam and was told that if he was successful he would then be called in for an interview. He said he left with the understanding that he would be contacted when the results were ready. He received a call last Tuesday and with high hopes returned to the base last Friday as instructed. "I went and I had to wait again. I got through to get the interview and they said that I get recommend, but I needed to get rid of the

tattoos," the clearly distraught youth said. He added that he was told that it was only after the tattoos were removed that he could return to do the physical that was to be done that same day.
He said his brother, who joined the army last year, was admitted with tattoos. He said that it was his brother who first informed him that no person with tattoos would be accepted after the new Force Order was issued. He noted that his brother told him that ranks who had tattoos and who were bleaching would be asked to leave the army.
The young man feels that in spite of the tattoo rule, the army should give him a break and allow him in. "They should give me a break. I know for sure I got the talent to do well. They should give me a chance," he argued.
'Hire them'
His uncle, Godfrey Thomas, viewed the situation differently and suggested that the army could pay for the tattoo removal with repayment to be done in installments.
Thomas, while making it clear that he was speaking generally and not behalf of his nephew, told Stabroek News that young people who go to apply to the army should not be shunned because they have tattoos.
"…Hire them and offer to take off the tattoo … take it out of their salary," he said.
He said too that the army can enter into a deal with a tattoo artist to get reduced prices for the dozens of serving ranks who will have to get their tattoos removed.
"You are not helping them in any way. Some are willing to work, some are not," he added, even as he questioned whether tattoos were linked to crime.
"How will the tattoos affect them?" he questioned, while noting that his other nephew, who is in the army, was told to remove his.
"I am very disappointed with the whole situation. Our President is an ex-army man and I am saying don't shun them, work out something to take the money out of their salary. The average man applying don't have a job or savings," he added.
Thomas stressed that it was unfair to allow his nephew to write the exam knowing fully well that the tattoos were an issue.
"If I get to meet with someone senior through the article I don't mind… He can't afford $400,000. I am very disappointed in the rule. This is an army base. Why can't you have on a tattoo or two? It doesn't speak to character," he stressed.
He said his nephew was doing some construction work to bring in an income but the situation has frustrated him so much that he did not go to work.
"His brother is there and he wants to join him. There are a lot of poor young men who are glad to [serve] and learn skills. The president should waive that [the policy]," he said.
"I voted for change and all of that and these rules are just upsetting to me. I mean, I don't want to go down this politics road but I am very disappointed," he added.
When told about Thomas's suggestion, Major George made it clear that the army will not be providing funding for the removal of any tattoo. Stressing that he empathises with the young man and his family, he said that there was a relaxation of the tattoo policy at a time when the number of persons joining was very low. He said there are serving ranks with tattoos who will now have to remove them if they are visible.
Around the Web