The police in Berbice are investigating a series of home invasions in the Corentyne area on Saturday evening, Commander of 'B' Division Ian Amsterdam has said, though no arrest has yet been made.
Melissa Narine, of Number 45 Village, Corentyne, owner of one of the houses, told Stabroek News that she was fast asleep around 11 pm, when she was awakened by someone "flashing a torchlight" in her face.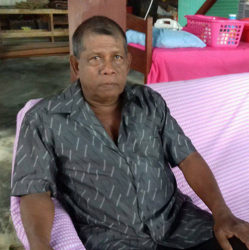 The 27-year-old pregnant woman, who has a two-year-old son explained that when she opened her eyes, she saw a man standing in front of her with a cutlass. He had one of her blankets over his head and was wearing one of her maternity dresses over his clothes. "Me jump up and he ask me where me money deh. Me tell him I don't have any money," Narine said. But the man places the cutlass to her neck and again demanded cash.
She explained that she then attempted to push him away, but he hit her with the bedroom door, painfully raising one of her toenails in the process. "Then he run downstairs. Be time me run downstairs me see he jump-on on the bicycle and ride away. That was my bicycle," she noted. "When me come downstairs me see all my bag and all me money gone and me jewellery and bicycle gone. It had icicle paper all over the kitchen. Biscuit everything missing, juice and drinks and so."
Narine, who is seven months pregnant, said the bicycle the bandit escaped with cost $30,000; he also grabbed a gold chain, a gold ring, $20,000 and a bunch of artificial jewellery. Narine told this publication that after the ordeal she was taken to the hospital where she was treated for belly pain.
Kerpaul Dammar, 46, of Number 46 Village, was also a victim of the lone bandit. The trucking service owner told Stabroek News that on Saturday night at exactly 11.20 pm his wife woke up to tend to his grandson and noticed a bicycle in front of their house. "She woke me up and I told her probably somebody drink and can't get home so them rest the cycle here," he said. However, the licensed firearm holder took the decision to load his gun and he sat on his bed waiting to see who would come to retrieve the bicycle. "The dogs started to bark and at 12.25 someone in black clothes jump the side gate and walk side the truck. He had nothing in his hand," Dammar pointed out. "I decided not to shoot at him, so I shoot above him, a warning shot to see if he will surrender. He did not surrender. I fired three more rounds."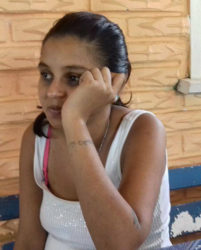 He stressed though that he did not target the perpetrator, as he just wanted to scare him off and protect his family. The man ran, picked up the bicycle and rode off. "I called my son and we tried to track him on the road but we didn't see anything. We find the black shirt he had over his head though," Dammer said.
It was not until he returned home that he discovered that his bottom flat had been ransacked. "We had some chocolates and some foreign sweets in that bus front seat, he took it. He took my elder grandson backpack with books," Dammar said, adding that he would value the backpack at $8000, since it had all of his grandson's text books.
"He mix tea and drink it and eat biscuit and he eat out the apple and grapes in the freezer," Dammar said. "In the cupboard we had two bottle of pepper sauce, me don't know why he take it." Dammar explained that the man also escaped with $4,000.
Meanwhile, a lone bandit also attempted to break into the home of Soamwattie Pertab, 77, of Number 46 Village around 12:30 am on Sunday. "Me husband hear the noise like them a break something downstairs and he wake me and tell me somebody a bruk a downstairs," Pertab said.
She said she got up and immediately put on the downstairs light. "After that abie two stand up in the house and abie na say nothing. Then long after abie hear na nothing more and me na see nobody." They then ventured into their downstairs kitchen where she saw a hand covered with a towel come through the broken window.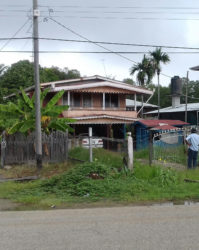 However after the bandit realized that the couple phoned the police, he made an escape before entering the home. "The towel left pon the window," Pertab said, adding that she has lived with her 79-year-old husband at that residence for over 60 years and no one has ever attempted to break in. The woman is now afraid for that a second attempt will be made.
Meanwhile, according to information gathered the perpetrator also broke into another woman's house in the Number 45 Village. However, the woman was not at home when Stabroek News visited the area.
The homeowners are calling on the police to capture the bandit and to also increase patrols in the area.
Around the Web