The 12 victims of the 2008 massacre at Bartica died after sustaining multiple gunshot injuries, with the majority dying after being shot to their heads.
This was yesterday revealed by Pathologist Dr Nehaul Singh, who performed autopsies on each of the bodies.
Dr Singh was at the time testifying at the continuing trial of Mark Royden Williams, called "Smallie," Dennis Williams, called "Anaconda" and Roger Simon, called "Goat Man," who are accused of murdering the men, three of whom were police officers.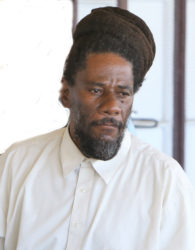 It is alleged that on February 17, 2008, they murdered Lance Corporal Zaheer Zakir, and Constables Shane Fredericks and Ron Osborne, as well as Edwin Gilkes, Dexter Adrian, Irving Ferreira, Deonarine Singh, Ronald Gomes, Ashraf Khan, Abdool Yasseen, Errol Thomas, and Baldeo Singh.
Detailing his findings after examining each of the 12 bodies, the doctor explained to the attentive court audience that Gilkes died as a result of a perforated lung, caused by gunshot injuries.
Asked by Prosecutor Stacy Gooding how long Gilkes would have remained alive before taking his last breath, after sustaining the injury, Singh said for about half an hour.
The doctor explained that at the time of death, Gilkes had some 2,000 cubic centimetres (cc) of blood in his chest cavity. He noted that it would have taken some time for this amount of blood to accumulate and estimated it to be about 30 minutes at best.
Constable Osborne died from intra-abdominal haemorrhaging. The court heard that this police officer was shot four times, with at least one of those bullets entering his abdomen, severing his aorta, travelling on to his kidney, and then through to his liver.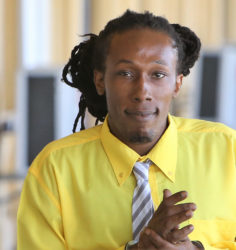 Constable Fredericks and Adrian were listed as dying after sustaining multiple gunshot injuries. According to Singh, this officer was shot 10 times to "all angles" of his body. Adrian, meanwhile, was shot three times less than the constable.
The court was told that of the bullets which hit Adrian's body, a flattened one was recovered. Singh explained that the flattening of bullets is caused when they pass through the skull.
All the other men died after sustaining multiple gunshot injuries to the head.
Of the three bullets which entered Khan's head, Singh said that one exited through the right nostril, while the other two were recovered in his skull.
He said Khan sustained multiple lacerations to his brain as the bullets passed through, "causing splits, and bursts to blood vessels."
He would have died instantly, the doctor said.
Like Khan, Yasseen also died instantly after being shot at close range.
Singh said the burnt hair, which was observed around one of the three shots Yasseen sustained, indicated that he was shot at close range. He said that the burning was the result of the heat and energy propelled by the bullet, when someone is shot at a close range.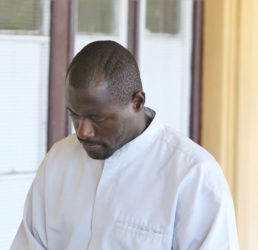 Yasseen's death, he said, would have been caused by excessive damage to the brain, due also to energy released from the shooting bullet.
Deonarine Singh was also shot at close range. Two of the five bullet wounds he sustained, were to the back of his head which killed him. Singh said a third was discovered lodged in his wrist, while the others exited.
The multiple bullets to Ferreira and Baldeo Singh's heads, all exited their bodies as well.
Thomas was shot three times; twice to the back of his head, for which there were exit wounds, while the third warhead was found lodged in his body.
Singh said that of the multiple shots to Lance Corporal Zakir's body, the major one was to his head, which ultimately killed him within five minutes of being hit.
Of the two bullets which penetrated Gomes' head, both were recovered flattened.
The trial continues this morning at 9, before Justice Roxane George SC, at the High Court in Georgetown.
Mark Royden, Dennis and Simon are represented by attorneys Roger Yearwood, Saphier Hussain and Peter Hugh, respectively.
The State's case meanwhile is being presented by Goodings, in association with Prosecutor Diana Kaulesar.
Around the Web