An Uitvlugt man and a 16-year-old boy were yesterday remanded to prison after being charged with three counts of armed robbery, including the attack on a North Road grocer that led to their capture last Tuesday.
Ivor Billingy, 26, of Lot 67 Uitvlugt Pasture, West Coast Demerara and the teen pleaded not guilty to three charges of armed robbery, while Billingy also pleaded not guilty to an additional armed robbery charge.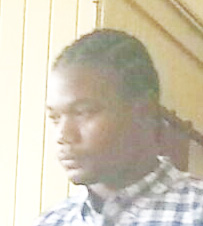 The courtroom of Magistrate Annette Singh heard that on January 10, at North Road, Georgetown, Billingy and the juvenile, while in the company of others and armed with a gun, robbed Devika Seenarine of $240,000, as well as a cell phone and an apron.
It was also alleged that on the same day at North Road, while in the company of another and armed with a gun, they robbed Pedro Luis of a gold ring, a gold and diamond ring, $100,000, a Samsung Galaxy S6, all amounting to $520,000 in total value. Another armed robbery charge was read to the duo that stated that they stole $11,000 from Danmattie Rajram.
Billingy a mason, was charged separately with using a gun and robbing Loris James of an iPhone, a MAC makeup set, $13,000, and other items totalling $192,000, on September 2, 2016, at Robb and Water streets, Georgetown.
The accused were both represented by attorney Clyde Forde, who requested that they be released on reasonable bail. The lawyer told the court that his clients were not flight risks and were willing to comply with any conditions that would be attached to their bail. Billingy was charged before, the lawyer noted.
Police Prosecutor Gillian Simmons objected to Billingy being released on bail, while noting the seriousness of the crimes which included the use of a gun. The prosecutor also voiced her fear that the accused might not return to the court based on the seriousness of the offences and the penalty they attract.
Magistrate Singh denied bail for the duo. Billingy was remanded to prison, while the juvenile was taken to a holding centre. Their matters were adjourned until January 30.
Chatterpaul Bharrat, owner of Bharrat's Fresh Vegetables, had told Stabroek News that he was informed that three men approached the stall on motorbike CG 8631. Two of the men accosted one of the workers with a gun and relieved her of her phone and other valuables.  The men then walked into the store and attempted to relieve his wife of an apron containing money from the afternoon's sales. It was at this point that a customer, Brazilian national Luis, tried to intervene and was robbed of two rings, a cell phone and $100,000.
An eyewitness had said that a customer, who was carrying a firearm, waited until the bandits exited the store before he gave chase and discharged at least one round behind the accused. One, however, made good his escape while the customer was able to apprehend another one whom he had followed on foot to Light and Robb streets. He was assisted by a contingent of Presidential Guards who were passing the area at the time.
Meanwhile, members of the Guyana Police Force, who had been alerted to the robbery, arrived on the scene and gave chase behind the rider, identified as the 16-year-old. The 16-year-old, according to witnesses, abandoned the motorbike and ran through Cummings Street onto Robb Street. He was later arrested by police, who found him hiding under the bed of a resident in the area.  The firearm used was found with the 16-year-old and was discovered to be a toy pellet gun.
Around the Web