Seeking to correct what it said were major failings on the part of the previous administration, government yesterday launched a two-year Plan of Action to combat Trafficking in Persons (TIP) even as President David Granger underscored the importance of enforcing the laws to ensure that traffickers are successfully prosecuted and the vulnerable protected.
"Human trafficking must be confronted fearlessly, frontally and fully…the laws must be backed by a plan of action aimed at eventually eliminating trafficking from our homeland," Granger told those gathered for the launch of the National Plan of Action for the prevention and response to TIP 2017-2018.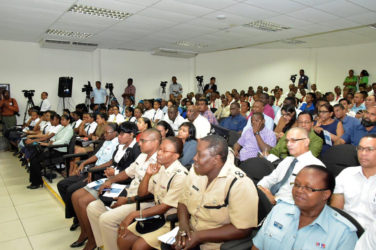 The plan estimates that a total of $22.4 million will be spent over the next two years to ensure a number of activities are successfully executed. All assurances were given that every effort would be made to combat this scourge and that Guyana will be looking to its international partners for assistance in this regard.
Granger, delivering the feature address, said human trafficking is "a serious crime and a grave violation of human rights. It is a crime against humanity and constitutes a form of modern-day slavery."
The launching was held at the Guyana Police Force Officers' Training Centre, Camp Road and was also attended by children from a number of city secondary schools.
Guyana has a legal framework which explicitly prohibits trafficking in persons. "Guyana is a state of laws. Laws are effective however only to the extent that people are educated to recognize and respect them and that the means exist to enforce those laws," he said adding that the Combating of Trafficking in Persons Act of 2005 designates trafficking in persons as a crime punishable under the law. "But laws are not enough. There is need for a practical plan… equipped with effective measures to combat and eliminate trafficking in persons," he said.
Stating that the launch was of personal importance, he recalled that as leader of the opposition he had brought a motion on May 22, 2013 calling for a Commission of Inquiry (CoI) to investigate the crime of Trafficking in Persons. He recalled that he urged the government of the day to "lift the veil on trafficking in persons and to stop denying that the crime was taking place." He had said back then that the denial was making matters worse and there was a syndrome of pretending that persons being trafficked had voluntarily entered into prostitution. The motion, he said, was approved by the National Assembly but it was never assented to by the then president.
The President stated that in the past, the government regrettably failed to implement the recommendations of the United States Department of State's Office to Monitor and Combat Trafficking in Persons. He said the past governments denied the validity of the office's report, "disparaged its findings and dismissed them."
He said the government of the day was solving the problem not "suppressing bad news". He stated that traffickers have been successfully prosecuted, there was collaboration with counter trafficking non-government, international organizations and friendly countries as well as strengthening of the inter-ministerial coordination of efforts and financing services to victims. Meanwhile, corps of wardens will be established to go into mining and logging settlements and along border areas where trafficking has been prevalent.
Contending that the previous government made "few" efforts to combat TIP, he said when a report was presented "they wrote their own report. That was very unhelpful." However, the government today is committed to reversing this indifference and will do so by enhancing education and by strengthening enforcement to eliminate the scourge entirely.
"Victims of Trafficking in Persons need protection. They are often helpless. They are often afraid to speak out. They often lack the resources and they need assistance… Victims of Trafficking in Persons must be provided with assistance, to help them to recover and to help them to reintegrate into society," he said.
Increase in cases
Coordinator (ag) of the Counter Trafficking in Persons Unit in the Ministry of Social Protection Tanisha Williams-Corbin addressed analytical data trends of suspected cases from 2014 to 2016.
During a power point presentation, she presented data which showed that since 2014 there has been an increase in alleged cases of TIP; in 2014 there were 40 – five males and 35 females; 2015, 59 cases – three males and 56 females and in 2016 – 98 cases – 13 males and 85 females.
She said that of the 197 identified victims in this three-year period, 89 per cent were females.
Williams-Corbin noted that 89.3% of the alleged victims were age 32 years and below, while the majority of the victims are nationals; non-nationals represent 41% of the figure recorded.
She said that with regard to place of exploitation the data reflected that 44.2% of suspected cases occurred in Region 4 followed by Region 7 with 22.3%.
"The analytical data is clear. There is an increase in the number of reports reaching authorities…," she said adding that the government's response through the Ministerial Task Force was the formulation of the 2017-2018 plan.
In the 15-page plan four areas are targeted – prevention, protection and reintegration, prosecution and partnership.
As regards prevention, the purpose is to increase: the distribution of information on TIP, capacity of civil society and awareness of the wider society on TIP and measures for prevention. A total of $13 million had been set aside including for the distribution of 2,500 brochures, awareness and sensitization sessions in secondary schools, PTAs, youth groups, faith-based organizations and youth spaces in all regions and general awareness sessions. It is expected that these activities would result in 50 youths being trained, 15 TIP awareness and `Road Side Gaff' sessions being conducted, a booklet launched and 20 civil society representatives trained.
The report stated that the task force intends to take a multi-faceted approach to prevent TIP and will take the fight to villages, schools, youth groups, convalescent homes among others. The report stated that sensitization would be conducted through various media including presentations, general discussions, distribution of awareness material, skits, airing of movies and documentaries among others.
In the plan $4.5 million has been set aside for ensuring the protection of the victims and their reintegration into society. The purpose in this regard will be the provision of appropriate and comprehensive direct assistance to survivors and the alleged victims of trafficking in persons being identified and referred for services. The money allocated is for a number of activities including the comprehensive provision of psychosocial support to all alleged victims, reintegration of survivors in their communities and opportunities for employment and education provided, the development of a national strategy for training medical personnel and the development of  a 'Rights of the Victim Booklet'.
From these activities it is expected that 80% of survivors will gain employment or be reinserted into the education system and there will be 50 surveillance activities on radar locations.
According to the plan, the projects planned to ensure the successful prosecutions of traffickers, leads to $43.2 million. The purpose of this part of the plan is to enhance the capacity of law enforcement and the judicial system to combat TIP and increase intelligence gathering to facilitate proactive law enforcement; establishment of TIP investigation and surveillance system and the establishment of the `Surprise inspection framework'. During these activities 20 police officers will be trained in TIP investigations, 15 magistrates and attorneys/police prosecutors will be trained in prosecuting TIP cases, 10 immigration officers will be trained in TIP profiling at ports and training will be provided to 10 Guyana Geology and Mines Commission officers. It is expected that there will be a 100% increase in the conviction-charge ratio, surveillance/monitoring of operations of 50 bars, clubs, other night spots, kayamoos, hotels, cinemas among other places in the various regions, monitoring of classified ads and 20 surprise inspections conducted on suspicious businesses.
A sum of $700,000 has been dedicated to improving cooperation mechanisms among key stakeholders.
Meanwhile Minister of Public Security Khemraj Ramjattan, said the complex operations of trafficking in humans continue for long periods of time because of corrupt and complicit public and state officials.
"Those officials can be within state-owned labour export agencies, immigration authorities, port employees and even tourists departments. And in other quarters least expected. So the very people who need to be champions to end it, are the reason sometimes the problem becomes entrenched," he said.
The Plan seeks to diminish the acceptance of TIP by bringing awareness and urging victims and their families to speak out.
Social Protection Minister Amna Ally said all must act together to bring TIP to an end and called for support to be given to survivors and their families.
"Today I want to unequivocally state that the Ministry of Social Protection stands with the victims. We stand with those who have been violated, abused and victimized and I can confidently stand here today and say that you can count on this government to support you," she stated. She noted too that TIP was a "fundamental obstacle to our mandate as a social service agency and undermines the development objectives we hope to accomplish through our programming."
US Ambassador to Guyana Perry Holloway, in brief remarks, lauded the launch of the Plan of Action and made mention of Guyana's improved ranking in the US 2016 TIP Report. Guyana moved from the Watchlist to Tier 2.
Holloway said the Embassy stood prepared to assist government in the core area of TIP and later this month will be bringing experts to provide a second round of training for frontline government officials and others fighting TIP on a daily basis.
Around the Web