The University of Guyana students who were displaced by the Cummings Lodge apartment fire were yesterday presented with laptops, mattresses and stationery by the Ministry of Social Protection.
Thirty-two students benefited from the donations, which were the result of collaboration between the ministries of Social Protection, Education and Public Telecommunications, as well as contributions from the Chinese Embassy. The handing over was done yesterday morning at the National Gymnasium, Mandela Avenue.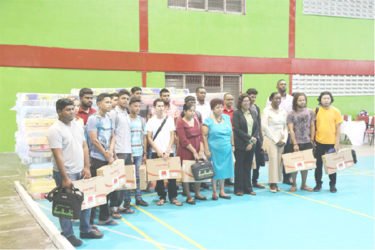 Minister of Social Protection Amna Ally said that during a meeting held prior to the handing over event, that students were offered accommodation, meals, transportation and other incidentals, but instead indicated their need for the items aforementioned. "I felt a lot of gratitude for what contributions you would have made to us and I'm sure the students—as well as I—would make the best use of it and value and cherish it. Even though we would have lost millions in things that were irreplaceable, things that are very close to our hearts, but we have to be strong and great things are gonna come," student Ronald Smith expressed.
Second year Medical Technology student Ravin Persaud also took time out to express his gratitude, while stating that the laptop and stationery will go a far way in helping him get back on course with his studies.
On Friday, January 13th, a fire, suspected to be electrical in origin, gutted the Third Street, Cummings Lodge off-campus lodge, which housed approximately 40 local and international students attached to the University of Guyana, Cyril Potter School of Education and the Rajiv Gandhi Medical School.
Around the Web