Corruption and money laundering are cancers plaguing Guyana, British High Commissioner Greg Quinn said yesterday, stating that his government remains committed to helping this country in its fight to eradicate them.
"Let's not kid ourselves, both are a problem here in Guyana… Too many people still think that they can get away with corruption and with financial abuse. If Guyana is to continue to grow and to use future resources for the betterment of all it will be necessary to address both these issues," Quinn said.
He was making remarks at a one-day seminar organised by Ireland-based financial investigation expert, Dr Sam Sittlington who is in Guyana on a follow-up visit to the Special Organised Crime Unit (SOCU). Sittlington, the Director of The Fraud Company, has been contracted by the British government to advise and provide training to SOCU officials.
Quinn told those gathered at the Police Officers' Training Centre for the seminar that corruption and money laundering reduces the funding available to government to do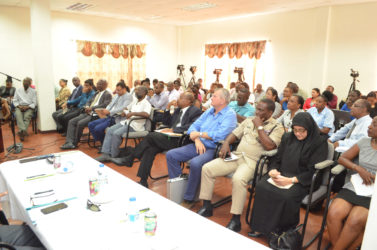 its day-to-day business and to improve the lives of citizens.
While pointing out that corruption undermines trust and confidence in governments and businesses, he noted that Guyana's ranking on the 2016 Transparency International Corruption Perception Index, though improved ought to be better. He said the Index puts Guyana at 108 out of 176 countries, the average score for 2016 being 43 which points to endemic corruption in a country's public sector.
Quinn said he was pleased that government has made "clear" its desire to stamp out these cancers and to recover ill-gotten gains from those guilty of such activities. He said it was for this reason that the seminar was very important.
Noting that his government's support to Guyana in the corruption fight will continue, he said the British government's stance on corruption was that it should be exposed, pursued and punished, driven out wherever it exists and support given to the victims.
"In short, it doesn't matter who you are, what you are or where you are. There must be no impunity," he said, adding that corruption was at the heart of so many problems affecting the globe. "We must overcome it, if our efforts to end poverty, promote prosperity and defeat terrorism and extremism are to succeed," he said.
According to Quinn, the British government remains committed to the Sustainable Development Goal 16: "Substantially reducing corruption and bribery in all these forms."
Stressing that combatting corruption and money laundering was not easy, Quinn said, "Integrity cannot be bought on the cheap. Officials have to be paid a salary comparable with the responsibilities they have. Public servants must have earnings set at levels which allow them to lead respectable and decent lives."
Progress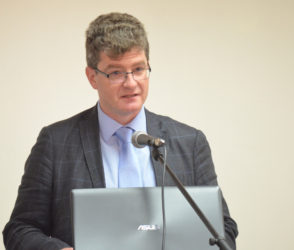 Meanwhile, Attorney General Basil Williams SC said that corruption destroys a country but can be effectively tackled with a strong legislative framework that promotes prevention, detection, prosecution and upholds the ideals of good governance.
Legislation such as the Integrity Commission Act and the Access to Information Act are in place to help counter corruption thereby ensuring good governance and that public officials are held accountable, Williams said. Observers note that the Integrity Commission has not functioned for years and the 21-month-old government is still to compose a new commission and present updated legislation encompassing its long promised code of conduct for public officials.
Turning his attention to anti money laundering, the Minister of Legal Affairs said that recent amendments to the Anti-Money Laundering and Countering the Financing of Terrorism (AML/CFT) Act saw Guyana being rated compliant with the Financial Action Task Force Action Plan. He reminded that at the last plenary meeting held in Paris, Guyana was congratulated for the progress made in addressing the deficiencies earlier identified.
He stated that Guyana will continue to work with the Caribbean Financial Action Task Force to further strengthen its AML/CFT regime.
He said that the State Assets Recovery Bill, the Witness Protection Bill and the Prohibited Disclosures Whistle Blowers Bill, once enacted, will all strengthen the regime's ability to tackle corruption. The introduction of the State Assets Recovery Bill in the National Assembly, he said "demonstrates Guyana's commitment to our international obligation under the United Nations Convention against Corruption." He said given that the Bill deals with recovery, it is non-conviction based and makes provision for the establishment of the State Assets Recovery Agency (SARA) whose function shall include the investigation, tracing and identification of state property suspected to be the proceeds of the unlawful conduct of a public official. SARA, he said, also has a mandate to institute High Court proceedings for the civil recovery of that property even if it is located outside of Guyana.
Williams said that the Witness Protection Bill and the Prohibited Disclosures Whistle Blowers Bill will help Guyana to protect the integrity in the justice system and strengthen the mechanisms for crime detection and prosecution while empowering citizens to address and report corrupt.
He noted that a strong legislative framework was not enough to stamp out corruption. "…There needs to be effective detection, investigation, analysis of evidence and prosecution. This is because a successful conviction is in itself a deterrent to these crimes," he said, adding that government has already appointed a team of six highly competent and experienced attorneys to deal with high-profile corruption cases in the court system including the recovery of assets acquired by public officials and money laundering matters. He said the appointment of these special prosecutors will enhance the capacity to secure successful convictions.
He said too that successful convictions require co-operation between anti-corruption agencies, commissions and units, financial institutions, the Financial Intelligence Unit (FIU), SOCU, the Director of Public Prosecutions' office and the courts, to quickly go after perpetrators and their assets to avoid the decapitation of those assets.
He said too that mutual legal assistance was also necessary particularly in complex cases with international reaches.
Williams expressed hope that the seminar will not only sensitise but will foster a culture of integrity.
Live
Siitlington later gave a live demonstration of how bribery can occur. He said that many of those laundering money are able to hide these sums in bank accounts set up outside their home country. He also explained how investigators can gather evidence of fraud, money laundering and corrupt activities.
Later when asked about the target group for the seminar, Sittlington told reporters that participants were from all the agencies in the money laundering arena, including police investigators and SOCU, all the main banks, the FIU, Customs Anti-Narcotics Unit, National Intelligence Centre and the Chambers of the DPP. They were part of the process of investigating money laundering crimes. He said these types of crimes can be anything from fraud, theft, robbery and corruption, but corruption would be one of the main topics during the seminar.
According to Sittlington, the aim is to link the corruption and the money laundering and asset recovery process.
He was later asked if he was satisfied with the response to his training thus far and what he would suggest the key agencies do to ensure success. Sittlington told reporters that he has seen improvement since his visit last year. Noting that it was a slow process getting SOCU to where it ought to be, Sittlington said he was confident that success will come. He said there were cases before the court and others will be before the courts in coming days. "Training will continue. It has to continue particularly with the SARU that is being set up and the bill that is going to be passed. There has to be training," he said.
According to Sittlington, new staff coming into SOCU will also receive training and new methods and trends of money laundering will also have to be taken into account.
He said that his role in Guyana was to advise. He said that the idea was not to disrupt workplaces but for investigators to locate the evidence they need and then leave. "There are good people in those offices as well," he said.
Later in the day presentations were made by Major Aubrey Retemyer, International Financial Investigation Advisor Ian McDonald, Director of the FIU Matthew Langevine and newly appointed Money Laundering Advisor to the AG Tessa Oudkerk.