Wales Estate cane cutters picketed the Ministry of the Presidency yesterday, claiming that they are being denied their severance payments, while being strong-armed by GuySuCo to take up positions at the Uitvlugt Estate.
However, the Agriculture Ministry, in a statement last evening, denied that any worker was owed severance payments.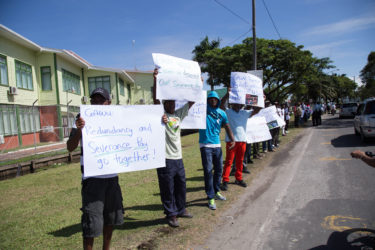 "The Ministry of Agriculture wishes to make it clear that GuySuCo has advised that ALL workers who had been declared redundant had accepted severance following the merging of the Wales and Uitvlugt operations and have been paid their severance IN FULL," it said, while charging that the protest was "politically instigated."
The workers journeyed to the city in an effort to get President David Granger or Prime Minister Moses Nagamootoo to intervene and they vowed to continue protesting until their voices are heard.
The workers said that on December 16, they attended a meeting with senior officials from the Guyana Sugar Corporation (GuySuCo) about their options for severance or to be transferred. The officials told them to discuss it with their families and that they would attend another meeting in January.
According to them, they had already made their decisions to accept the severance but they were only called to another meeting with the officials early this month.
They were disappointed that they did not have a choice as promised. "Dem [GuySuCo officials] photocopy we ID card and tell we that we have to go to Uitvlugt to work," a worker said.
One of the workers told Stabroek News that he was employed with the company for over 30 years and did not expect to be treated like this. He pointed out that if the estate would no longer be in operation, at least he should be able to decide if he wanted to be transferred to Uitvlugt or accept the severance pay.
The workers said the work would be tougher on them and they would prefer to be paid the severance and find alternative ways of earning an income instead of travelling a farther distance to Uitvlugt and going through the hassle for the same pay.
The workers lamented that they have to travel 22 miles daily with a truck provided by the estate and another 16 miles to get into the backdam.
Unreasonable
But according to the Agriculture Ministry statement, no severance payment is outstanding. The statement said the demand for severance was "most unreasonable," while noting that extensive efforts were made to ensure continued employment of the Wales workers at Uitvlugt and this was successfully achieved. Toward this end, it added that transportation was being fully provided to Uitvlugt from the West Bank Demerara and back and GuySuCo has stated that workers were not responsible for providing their own transportation.
According to the ministry, workers who have been previously assigned to work at the Skeldon Estate are now working at Albion, a much further distance to travel, and have been doing so without any issue. As a result, it charged that the issue of not wanting to work at Uitvlugt was disingenuous and some of the workers were being politically instigated to campaign for their employment to be terminated and for severance to be paid.
"The Ministry of Agriculture wishes to reiterate that GuySuCo has advised that ALL the workers whose jobs had become redundant had been paid their severance in full," it said.
"The Ministry of Agriculture calls on the union leaders and their political handlers to act responsibly and not to instigate and misguide workers into manufacturing unrealistic and unreasonable demands. There is no option for workers who were offered alternative employment to now make demands for severance when no such offer is on the table and there is full and secure employment for them at Uitvlugt," it added.
When government made the announcement in January, 2016 that it planned to close the estate, over 1,600 workers were left in limbo.
There have been plans to pursue diversification ventures and so far GuySuCo has started preparation of a portion of the 480 acres of land for seed paddy cultivation.
Close to 100 workers from the tillage gang opted to accept severance pay a few months later. Reports are that the administrative staff are in the process of receiving their payments, while the other departments have already been paid.
Justice
President of the Guyana Agricultural and General Workers' Union (GAWU) Komal Chand told Stabroek News that the factory at the Uitvlugt estate already has enough workers so it would not be able to accommodate too many from Wales.
He said GuySuCo, in a statement, had accused the union of not encouraging the workers "to go [to Uitvlugt] and are talking about our self-preservation."
Chand said it was "ironic for them to issue a statement like that because we would like as many people to remain in the union but we have a legal right to represent these people… The President ought to ensure that they [workers] are given justice."
He said the workers have not received the one month's notice about the closure and that when they do, "they ought to be given work in the meantime but they are denied work and are forced now to go… And they were condemned by the big ones in GuySuCo."
According to a cane-harvester, the first set of workers took six months to receive their severance payments and it was unfair for them not to get any.
Over 200 factory workers and about 25 foremen and charge-hands have received a month's notice and are being paid a month's salary while they are awaiting their severance payments.
Chand told Stabroek News that not every worker would be given severance pay and that some would be retained, like the koker attendants and the watchmen.
GuySuCo had said in a release that "with no diversification ventures yet in place," it "has agreed to offer continuous employment to hundreds of Wales workers who would have been out of a job following the end of sugar cultivation on the West Bank Demerara estate on December 31, 2016."
It said too that the corporation prefers to have the "cane harvesting and cane transport sections continue in its employ."
According to the release, there was a demand for labour at the Uitvlugt estate as it was preparing to boost its production from 20,000 to 40,000 tonnes of sugar annually.
The release also said that the decision was influenced by views from the majority of employees during various protests on their preference to keep their jobs.
The crop commenced at Uitvlugt two days ago but the workers have refused to turn out there, saying that they would have preferred to keep their jobs at Wales.
GuySuCo had exhorted GAWU to see this decision regarding the future of employment of the cane-harvesters and cane transporters as meaningful and in the best interest of the employees, their families, communities, Guyana and the union.
GAWU, in response, said, "We wish to reiterate that the workers' demand for severance pay is based on their clear understanding that their jobs are now redundant since cane growing and sugar processing have ended at Wales."
It added, "Their right to severance pay is enshrined is in the Termination of Employment and Severance Pay Act (TESPA). It is apt to point out too, that GuySuCo, with our union present, during engagements with the workers that begun December 15, 2016 advised the workers quite correctly that their jobs were to become redundant and they were entitled to severance pay if they decided not to go to Uitvlugt Estate."
According to GAWU, a number of workers who chose not to work at Uitvlugt received their severance pay, while the entitlements of some others are being processed.
Interestingly, the union said, the workers which GuySuCo referred to in the release are being interviewed by GuySuCo in the presence of GAWU to determine whether they desire their severance allowance or to work at Uitvlugt Estate.
GAWU said that indeed the workers protested and engaged in several other activities to retain their jobs at Wales and called often for the estate not to be closed. The union is dismayed that "GuySuCo and the government remained unmoved by the pleas of the workers repeated and clarion call and instead pursued stubbornly the estate's closure." It added, "Our union stands in full support of the Wales workers and rejects all attempts by the GuySuCo to coerce them to take up employment at Uitvlugt."
Around the Web