Former Permanent Secretary of Ministry of the Presidency Omar Shariff and his common-law wife Savatri Hardeo will go on trial for allegedly failing to comply with a production order on March 6.
The trial date was set yesterday by Magistrate Fabayo Azore when the matter was called before her for a report and statements from Special Prosecutor Patrice Henry.
The charge against Shariff, 46, and Savitri Hardeo, 32, both of Dowding Street, Kitty, alleges that on or before October 14, 2016, at Georgetown, they failed to comply with a production order issued by acting Chief Justice Yonette Cummings-Edwards after same was served by a marshal of the High Court to produce certain named documents within seven days to Assistant Commissioner of Police Sydney James, who is the head of the Special Organised Crime Unit (SOCU). It is alleged that they contravened the order without reasonable cause.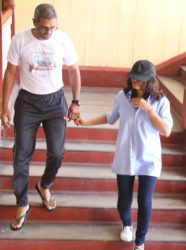 During yesterday's hearing, Henry made an application for a joint trial of the two defendants. He said a total of seven witness are expected testify.
While Shariff's lawyer, Sanjeev Datadin, was not present, another attorney who appeared on his behalf asked that the absent lawyer be given an opportunity to respond to the application for both Shariff and Hardeo to be tried jointly.
Magistrate Azore subsequently scheduled March 6 for the commencement of trial. On that day Datadin is also expected address the court on the application for joint trial.
Shariff, who was fired at the end of last year, had initially been sent on annual leave from July 1, 2016 by Minister of State Joseph Harmon, following the investigations that were launched by SOCU.
Harmon had said Shariff was sent on leave to facilitate the ongoing investigation into the acquisition of his personal assets and accounts. The Ministry of the Presidency had reported him as saying that the exorbitant accumulation of property and wealth, which could not be justified by income by any public servant, regardless of their position in the administration, would raise questions.
Shariff, in a statement, had said that SOCU had launched an investigation into a personal matter related to tax remittance and compliance regarding his legitimate business operations over the past few years and pointed out that his business and the Guyana Revenue Authority had been engaged on the issue since early 2007.
Around the Web