A man was burnt to death in his son's house early yesterday morning at Timehri.
According to reports reaching Stabroek News, 54-year-old Adam Shaw was trapped in the house at Lot 118 Timehri Public Road when it went up in flames around 2:45 am.
According to Shaw's son, Irfan Shaw, his father has been living in the house for approximately four months. His father who used to live on his own, suffered from seizures, and so he decided to move him to his home.
"My grandfather gave me the house several years ago when I de get marry and because he (the father) does suffer from seizure, and plus he's an alcoholic, so I brought him to live here for the past four months, and I moved to my girl and let him live alone," Irfan related.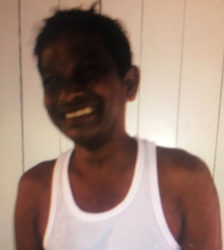 He explained that around 2:30 am yesterday, he received a call from his sister-in-law, who lives in another house on the same lot, stating that his home was on fire and his father was trapped inside.
"I rush from where I went, and I come and I see my dad by the grill holding on in the corner, and he was locked inside. He had the key in his hand at the spot, and he was trapped inside," the man said, his eyes welling up with tears as he recalled the incident.
"I said dad give me the key, let me open the grill for you, and he grabbed my hand and said `son, no' and he pulled back and the key dropped, and because of the heat and the heavy flames I couldn't pick it up and I had to watch him die. I had to watch my father get burn up and there was nothing I could've done," the l emotionally-distraught Irfan related to Stabroek News.
What was already a terrifying morning only became worse, as the man recalled that he had to watch the lifeless body of his father continue to burn, since it took the fire service, which he said is located some five minutes away from his home, some 30 minutes to arrive on the scene.
"We weren't getting on to them when we were calling, and is my brother had to take his bus and go to them, and escort them straight here and even when they reach they didn't have any water, and had to use from our vat," Irfan said, while stating that he is of the opinion that if the fire service had responded quicker they would've been able to save his father.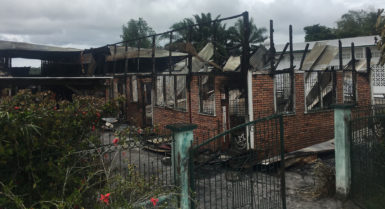 He explained that before he arrived on the scene several neighbours had tried to break the grill in a bid to assist his father but they were unable to, because of the heat.
According to Shaw's father, who lives in the house next to him, he was awoken by noises and when he rushed outside he saw his grandson's house on fire. "By the time we rush out you couldn't go close to the house, because the heat and fire already big, big and everywhere start to burn up," he recalled.
In terms of the origin of the fire, Irfan related that he is unsure of how it might have started but according to the information he was able to gather, Shaw, who was often drunk, went around declaring that he was going to set the house afire.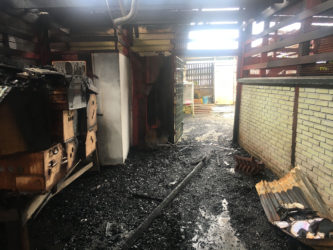 "When my sister-in-law de call she told me that it was he [Shaw] that was burning the house down and he stuck inside, and I guess that's how it started. He was saying stuff like he would burn the place down because he was drunk and wasn't getting his way. He had some intention, but I don't see why he would want to, or how he was trapped," Irfan related.
The entire building which also housed the main office for Guyana Wildlife Trappers and Exporters, a business Irfan runs with his grandfather, was completely destroyed, along with the quarantine zones where the wildlife was normally kept.
Fortunately, there were no animals in the zones at the time.  However, Irfan says he is unable to estimate the cost of what was lost in the fire.
Around the Web