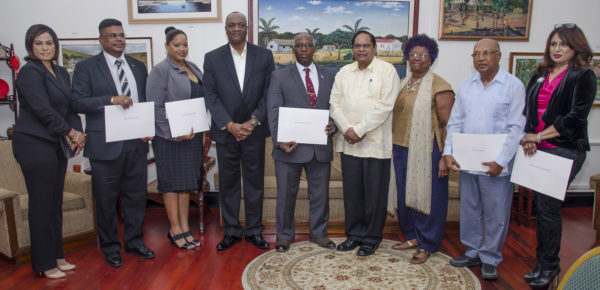 The National School of Music reigned supreme on Sunday when the curtains came down on the annual Pan-O-Rama competition at the Cliff Anderson Sports Hall.
With its win in the large band category, the band unseated the Parkside Steel Orchestra, which won the category last year.
The final night of the steel pan competition, hosted by Republic Bank in collaboration with the Ministry of Education's Department of Culture, Youth and Sport, saw the Sports Hall come alive with the sweet sounds of steel pan music, as bands from across Guyana participated in three categories— Small Youth Band, Large Youth Band and Large Band—at the sold-out venue.
The National School of Music's Steel Orchestra won the large band category with their piece, "Pan Paradise," which had the judges smiling in approval. In doing so the band dethroned Parkside Steel Orchestra, which managed third place with its performance of "Jaguar Band."
The Guyana Police Force, with its rendition of "Is we Own," came in second with 258 points.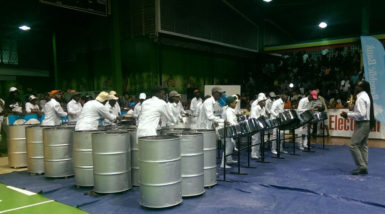 Iva Chapman's Pan Groove, with "Bing Bang Ting," also competed in the category.
When it came time for the results, some were not widely accepted by the audience and a few pan groups. But the judges' decisions were final.
Both the large and small youth bands were required this year to play songs that were sung by the late Guyanese calypsonian Shurland Wilson, who is better known as King Fighter.
In the Small Youth Band category, Queen's College won with 220 points for their rendition of "Suriname," defeating last year's winner in the category, Dolphin Secondary, which secured second place this time around with a score of 200 points for their rendition of "Come Leh We Go Sookie."  Lodge Secondary followed in third with 177 points for their rendition of "He Nah Dead Yet."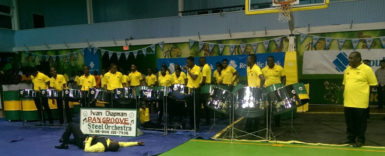 In the Large Youth Band category, GBTI Buxton Pride Steel Orchestra took the top honours with a score of 255 points for its rendition of "All Ah We Is One." The band members, who played with much excitement, also won a trip to perform at Carifesta XIII in Barbados this August.
Pan Wave came in a close second position with the 250 points it received for its rendition of "Pom," while North Ruimveldt Secondary, which was led by their theatrical Head Master, was third with 240 points. North Ruimveldt had won the category last year.
Other schools in the category, the Mahaicony Secondary and President's College, which both played "Come Leh We Go Sookie," Bartica Secondary, which played "Oh My Dear," and the Bishops' High School, which delivered a rendition of "Animal Jumping," all gave commendable performances but did not get the judges' nod to be in the top three.
Prizes are to be handed over at a later date.