At 16, Richard Kansinally had just graduated from the St Roses High School where he was among the top ten and as a result he baulked at attending the Government Technical Institute (GTI) as was being suggested by his parents, his belief was that the institute was for low achievers.
Today at 28, with two diplomas from the institute, a diploma and degree from the University of Guyana and a Masters from Leeds University in the UK, Kansinally without a blink said attending GTI was the best decision he made in his life.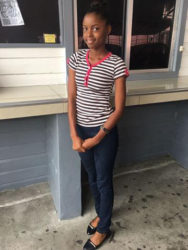 He boasts that the institute lays the foundation for your career and he recommends it for any young person. He says, "Go to GTI, don't be afraid, be in it to see it."
He now works as an engineer and a surveyor at the Ministry of Public Infrastructure and he uses his surveying knowledge in the hinterland projects and civil engineering for the many bridges in the hinterland areas.
If one is to take Kansinally's word and those of at least two other past students—Kevin Corridus and Shanese Lilly both of whom did very well at the institute and are furthering their studies—GTI is certainly the place to be if you want theoretical as well as practical experience.
"Absolutely!" Lilly responded when she was asked if her years at GTI were the major contributing factor to her now acing her studies at the University of Guyana where she is reading for a degree in civil engineering.
Corridus, who is reading for a degree in pharmacy at UG, also shared the same sentiment and the former North Ruimveldt student is proud of his decision to attend GTI and read for an ordinary diploma in science much to the disdain of his mother and sister who felt he was better than the institute. They came around eventually and both sat proudly when he graduated as the valedictorian of the institute.
Registration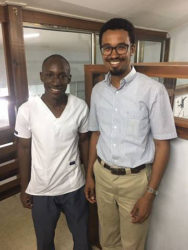 But while these students and many others shout accolades about the institute no one can do it better than its acting principal Renita Crandon.
A recent significant achievement for the institute was it becoming the first public institute to be registered with the National Accreditation Council and it is now working on being accredited by the council.
"That is a well-deserved accolade because we are the only public institution that is registered," she proudly boasted during an interview with the Sunday Stabroek.
She recalled that the institute applied for the registration in 2014 and started the process of working to fulfil the many criteria set out by the council.
"We had to put together policies, and had to seek the services of a lawyer to dig deep into our archives to find the ordinance that actually made us a legal entity," she shared adding that it was a time consuming task since the institute was established since 1951.
In the end it was in November last year that the much coveted registration was granted, but the process has not ended as they have to ensure that the quality of the institute's work is continuous.
The registration is for two years and she shared that the process of the registration had started before her time at the institute but the council had some legal setbacks as regards its operation. As such the process was made easier as the work done before was improved and the final version brought the much deserved success.
Like her past students, Crandon recommends the institute for any high school graduate as she said the benefits are numerous. The institute has been in talks with UG to have students who would have completed its engineering diploma to be exempted from some of the engineering degree courses at the university. The diploma can also be used by students to get into university if they were unsuccessful at the Caribbean Secondary Education Certificate (CSEC) examinations.
"It [GTI] serves as that transition from secondary school to UG…" she said.
'Wanted to go back'
For Kansinally after he completed his diploma in civil engineering and was the second best graduating student he immediately wanted to return.
But he moved on to UG where he read for a diploma and then a degree and then to the UK for his Masters in Structural Engineering.
Return he did after many years and the many successes [he graduated twice with distinction from UG] because according to him he loves surveying and only the institute offers studies in this area. He shared that his love for surveying grew while at GTI and while many would believe with his qualification it would have been a "walk in the park" the young man admitted that even with his Masters it was a very tough programme.
"You have to unlearn to learn… It is a total applying of yourself to a new thing that you are doing," he said with a slight laugh.
It was difficult but he was the valedictorian at the end of the process and was afforded the opportunity to write the sworn surveying examination at Lands & Survey and became a qualified surveyor.
He boasted that one must have a surveying diploma from GTI before writing that examination as it is not taught anywhere else and Lands & Survey only offers a refresher course before the examination.
"I would recommend GTI any day… it has teachers who give that attention; if they think you are weak you are provided with extra attention. It gives you that practical experience which is important in engineering, you can have the world of theory but if you cannot put it into practice you are in trouble," the young man said.
Looking back Kansinally said it was his parents who motivated him to attend GTI along with his personal drive of what he wanted to do since he liked technical drawing and other subject areas that were not being offered at the sixth form level.
"I was still very reluctant as I thought I could get beat up and I was not a rugged child, that was the perception and then I was thinking about what my friends would say," he recalled.
He heard what some of them said as they boasted their Queen's College ties and questioned what he was doing at the institute but by then Kansinally said his perception had changed as he realised the practical aspect of his studies. He struggled a bit with the practical as the students had to build windows and walls, mix cement and learn how to make proper concrete.
"You would think you need to go to QC to do Chemistry but I did that and Physics right there and all the different types of Mathematics.
"When you go to UG with that diploma you are sought out and become a leader to do the practical part, and even with the Mathematics," he revealed.
Corridus had the same negative perception and this was not helped by the reservations expressed by his mother and sister.
But he took the decision on his own based on how GTI sold its programme during a visit to his school and also because he felt he was too young for UG. He recalled that he was a poor Mathematics student and was forced to re-write the subject and it was what was being taught at GTI that saw him being successful in the subject on his second try at the CSEC level.
"At first it was challenging and I had to adapt, but with determination I did it. The lecturers were really good especially Mr James he is very experienced, he was able to connect the dots in chemistry for us," the budding pharmacist, who celebrated his 20th birthday on February 23, said.
He recalled that his attachment while at GTI, at Demerara Distillers Limited helped him to master Chemistry and he is convinced that if he had not attended the institute he would not have been able to bridge the gap at UG so quickly.
His advice to perspective students? "Don't be afraid, you would hear negative stories but you have to go and see for yourself and experience it…"
He now assists the institute in mentoring students and also conducts tutorials, services for which Crandon said the institute is very grateful.
Both Corridus and Kanisnally are receivers of the Ministry of Education's national award for high achievers for their outstanding performances at GTI.
Twenty-year-old Lilly gained passes in 10 CSEC subjects when she graduated from the Annandale Secondary School and like Corridus she took the initiative to attend GTI and she had no reservations.
"The experience was great, I think I became a better individual in terms of the subject areas that I was not coping with and I got much better," Lilly said.
She graduated as the best student in the programme and recommends GTI as the best option for "anyone after secondary school, you would experience a lot, you are having fun while you are learning."
Around the Web