Citizens of both Guyana and Chile will now be able to do "visa-free" travel between the two countries, with the launch of Guyana/ Chile Visa waiver programme.
Held last evening at the Marriott Hotel, the launch signified both parties' commitment to strengthening bilateral ties through the Open Skies Air Services Agreement and a Reciprocal Visa Abolition Agreement.
This pact, was signed in October, 2016 by Minister of Foreign Affairs, Carl Greenidge and Chilean Foreign Minister, Heraldo Muñoz in the presence of President David Granger and President Michelle Bachelet of Chile, following bilateral talks between the two Heads of State and  paves the way for visa-free travel for citizens of both countries.
Chile's Ambassador to Guyana, Carlos Rojas said last evening's event underscores the importance of the agreement and its implications for both countries.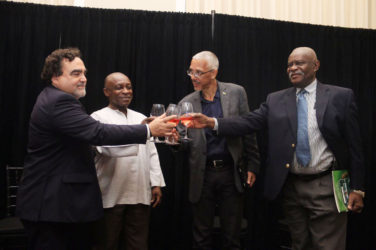 It was his belief, that though Guyana identifies more with its Caribbean counterparts, it is a country that forms part of the South American continent and therefore should be able to have a "constructive relationship" with its South American neighbours.
"We are not moving forward in a vacuum, we are moving forward in a kind of set up;  roadmap and building block mechanism because if we, Chile and Guyana build those mechanisms, little by little,  block by block, we are going to build something solid that will really benefit our relationship  in the future," Rojas said.
Meanwhile, Minister of Foreign Affairs, Carl Greenidge agreed that Guyana and Chile should make the best of being neighbours.
"Coming shortly after signature, this launch tonight is testimony of the emphasis our countries have placed on strengthening of bilateral ties," the Minister said.
Notwithstanding, he noted that the visa waiver agreement presents an opportunity for both countries to facilitate cultural exchanges, English and Spanish and tourism.
"Chile is one of the most stable and prosperous nations in South America. In addition, it is recognized as being the 5th largest exporter of wines to the world often. Guyana also has its own uniqueness to share with the rest of the world and our diverse culture which emanates from the 6 ethnic groups of people is something of which we are very proud," he added as he spoke of the benefits to the tourism sector in both Guyana and Chile.
However, Greenidge related that in addition what is expected to be an increase in cultural exchanges, both Guyana and Chile must seek to broaden efforts in the areas of trade and investments.
"The Government of Guyana is willing to learn from Chile; though our countries differ in size and are at different lengths of development with collective and combined resources, we can work towards improving the livelihoods of all of our people," he said.
"I would like to reiterate my Government's commitment to cooperating with yours at the bilateral, regional and international levels, while upholding the common values we share in relations to respect for territory integrity and sovereignty and the role of international laws and treaties and the maintaining of these," the Minister added.
Minister of Business, Dominic Gaskin in brief remarks encouraged all to consider opportunities created by the agreement.
"The waiving of the visa requirement can go a long way towards increasing trade and tourism between Guyana and Chile, however, an agreement alone may not deliver these results without a deliberate effort to promote the products and services and other attractions that our countries have," Gaskin said.
"We all have to start thinking how we can take advantage of the opportunities created by these provisions and that we develop and implement strategies to maximize the benefits of these agreement otherwise they'll just remain agreements on papers," he added.
Around the Web