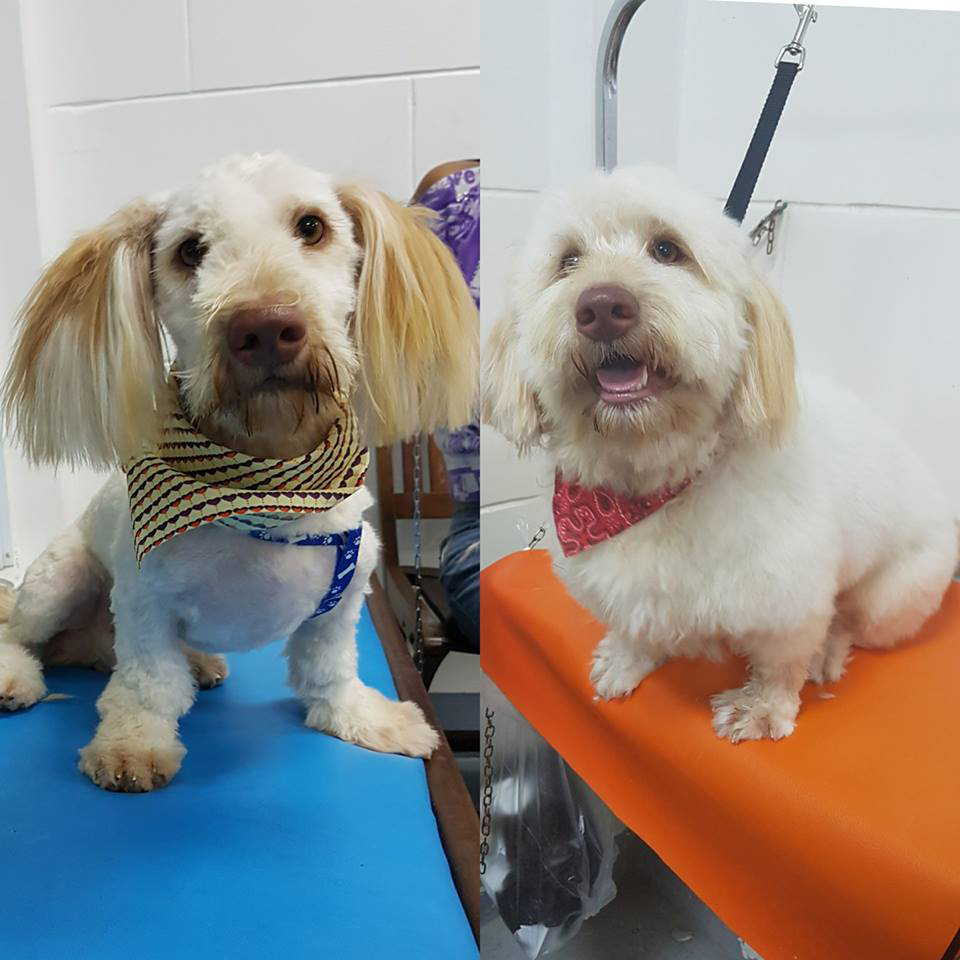 The dog barked and resisted as his owner took him into the store and after a kiss on his mouth she left as he tugged at his leash seemingly with the intention of following her, but he was soon scooped up and comforting words were said in his ear as he settled contentedly on the inviting lap.
That lap belonged to Luana Pierre, owner and head groomer at Pawsome Pets located at the Giftland Mall. That is probably how she starts her day every day, because Sunday to Sunday she grooms dogs and cats.
It has been about a year since Pierre opened the store, likely the only known one in the country, but her love for dogs been with her throughout her life. She recalled that her parents had dogs when she was a child and she grew up with them being part of their family.
With a small chuckle, she said it could be that love that led to her marrying a veterinarian and with dog loving—or perhaps the more apt description would be animal loving—parents, their three children also love dogs. So much so that the youngest has already indicated that she would be one of the persons will have lots of dogs around her.
"She said she would be like the crazy cat lady [but] she would be the crazy dog lady because she is going to have dogs around her. We would be on the road and she would see a dog and she would say 'Oh look a cute dog'… it is some stray dog …She always see the good side of the dogs," Pierre said. Due to the child's obvious love for dogs, Pierre said she has promised her that maybe one day she would take her to a dog sanctuary in Costa Rica which has about 900 dogs and persons can go there and just play with the animals or they can also find pets. "She said she would be in pet heaven."
Pawsome Pets is really an awesome pet store, apart from the grooming, owners can pick needed items for their pets and not just eatables but a variety of toys right down to cute little ties and bows.
"Smiling faces… and wagging tails" is the store's promotion line and Pierre pointed out that this is always the state of a dog after a good grooming.
In a sit down with the Sunday Stabroek, dog in hand—her first client for the day—Pierre, who is an animal technician, recalled that she and her husband had opened a clinic and she observed that lots of dogs were being taken for treatment with no maintenance of their hair and toe nails. To put it simply, they were just not groomed.
"I decided to start grooming them and it just picked up from there and started getting bigger and bigger as people started coming for that service."
In 2011 she decided to further her education and she read for a degree in Agriculture with a major in animal science. During that time she continued to groom dogs but not on a large scale. But her clientele grew and after her studies, while she thought about working with the government there was that pull to become an entrepreneur focusing on what she loves, grooming dogs with a few cats thrown into the mix. Her husband by then had closed his clinic and now works with the government.
With the new mall opening, Pierre decided it was time to make her move, and after securing a loan from the Small Business Bureau, Pawsome Pets was born. The surprise for her after opening the store was the fact that persons also took their cats to be groomed, which she had not expected.
"The grooming is not only about making the dogs look nice, there are things that we can see on the dogs like sometimes we are bathing them we can see external parasites… Sometimes they have growths and lumps… and sometimes the skin itself has irritation and those things we are able to see and bring it to the attention of the owner," the animal groomer explained.
Pierre and her two staff see about five dogs a day with the weekends being the heaviest time of the week. While it is "kind of hard" working seven days a week Pierre said, "… I may come here tired but once I see that animal I would just go and I would go until I am finished."
It takes her about 90 minutes to two hours to give a dog the complete grooming as she does not put them to sleep and as such if they are resisting, she gives them little breaks until they become comfortable and relaxed.
"Most of the times we find that when they first come they're fighting and giving me a hard time but then slowly they change… I have one when he first came he snarled and use to fight but now he is licking me in the ears and my face," she said laughing.
When she is grooming cats, she clears the store of all dogs as she does not want the two animals to meet, since this could create confusion as the dogs may attack the cats. "Sometimes the dogs might not like cats and the cats may feel intimidated."
While there are a few walk-in clients, Pierre said most of the grooming is done by appointment.  The store has 150 registered animals and while it is recommended that they be groomed every six weeks there are some clients who visit every two weeks and even some who visit every week.
She acknowledged that vets recommend that a dog be bathed once a month, but she sees no harm in them having a bath more often as she uses the right shampoo and conditioner and is careful in performing her duty.
Always having a dog
Speaking about her childhood, Pierre said her mother always had dogs and they lived in the house as well since they lived in a shared yard.
"I don't know if that is what made me marry a veterinarian… and so we always have a dog. Most of our dogs they have human names so they are like part of the family. Right now I have two large ones and two very small ones," she shared.
Pierre said her entrepreneur drive came from her mother who was a seamstress and from the time she knew her that was her business. Pierre and her husband have had a chicken broiler business and two farms and then he had his private clinic.
But now the animal groomer said she has found her comfort zone and she is looking to expand her business even though she is a bit tentative because "I am almost 50. But I read about this man who became an entrepreneur when he was 84 selling these socks, he and his wife, and he is 93 now and still in the business and it has expanded."
That is her motivation as she contemplates producing some kind of dog food.
Pierre charges about $8,500 for a full grooming. Some clients may just request one particular aspect and this will come at a cheaper cost. When the grooming is completed the store gives the animal a bandana or a ribbon bow depending on whether it's male or female.
While this month has been slow, Pierre said generally her business has been growing and she has been making enough to cover her overheads, pay her staff and loan and make a small a profit.
More and more she is seeing persons making their dogs part of their family.
"There is a whole great satisfaction in having an animal…," Pierre said giving the example of a client who initially did not like dogs but was forced to look after her children's dog when he became sick and became so attached to the animal that she now sees it as one of her children; she never expected such a connection.
She suggested that dogs can be used to help rehabilitate prisoners as is done in some countries and even to assist persons who may be mentally ill as while they are being treated they can be given a dog to care for.
Around the Web