A taxi driver was yesterday remanded to prison after being read multiple charges, including the attempted murder and armed robbery of a BK International supervisor who was attacked outside the compound of the Ministry of Finance on Main Street last December.
It is alleged that Samuel Adams, while in company of others and armed with a gun, discharged a loaded firearm at John Brian with the intent to commit murder on December 5, 2016, at Urquhart Street.
It was alleged too that on the same date and at the very location Adams and others, who were armed with guns, robbed Brian of $3 million.
The Guyana Police Force, in a press release, had said Brian was walking on Urquhart Street heading in a western direction when two bandits, one of whom was armed with a handgun, exited a white Toyota Premio and approached him. Brian, the police said, became afraid and ran to the Ministry of Finance's gate, where he threw a haversack, which was reported to contain $3M in cash, into the compound. "The suspects went into the compound, collected the bag and were exiting when the victim tried retrieving same and in the process, the armed suspect discharged his firearm in his direction, hitting him to his right thigh," the release said.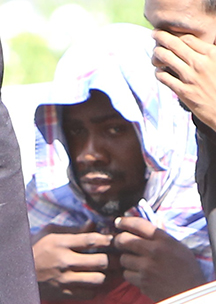 It was further alleged that, while in company of others and armed with a gun, Adams discharged a loaded firearm Christopher Marks on February 3 at Mandela Avenue, with the intent to commit murder.
It is also alleged that on the same date and at the same location, the defendant, in the company of others and armed with a gun, attempted to rob Ramroop Ramnauth of cash in his possession at the time.
Adams, who was crying as the charges were read, was not required to enter a plea to any of the charges.
Attorney Dexter Todd told the court that Adams, 29, of Lot 9 Dennis Street, Sophia, was in custody for 12 days, during which time he was only told of one of the three charges read against him yesterday. Todd added that his client was beaten, which resulted in him spitting blood. Adams, he said, was also told by an officer, who opened the door of the lock-ups, to run so that they can shoot him. This, the attorney said, is only being done because his client failed to cooperate with the police, who requested information on certain cases.
Adams added that a particular high ranking officer told his client that they will see that his life crumbles after he was unable to help with inquiries about certain cases.
The attorney added that his client was arrested in January in relation to a robbery charge and was later released on his own recognisance with the condition that he report to a particular officer. During his continual reporting, Todd stated, Adams was never made aware of other charges against him.
Police Prosecutor Deniro Jones objected to bail being granted and also noted that there was no report made nor was there anything on file which stated that Adams was beaten. This was immediately refuted by Todd, who presented to the court a copy of medical records given to the defendant when he was escorted by police to the Diamond Hospital to receive treatment.
Bail was nonetheless denied to Adams and the matter was adjourned until March 22.