Scotiabank presented one thousand energy-themed booklets to the Guyana Energy Authority (GEA) yesterday for distribution to grade six Primary School students.
"Scotiabank is delighted to partner with the GEA on this excellent initiative aimed at informing our children about energy and how they can contribute to conservation of same, " Jennifer Cipriani, Scotiabank's Marketing Manager was quoted as saying, in a press release from the GEA. "We hope that by educating our young ones, they in turn will teach other members of the household about energy conservation and over time, we all can create a positive impact on our environment,"  Cipriani added.
"Educating Guyana's young minds about energy use and its impacts on the environment will significantly help in ensuring that Guyana has a secure and sustainable energy future,"  Gayle Primo-Best, Deputy CEO of the GEA was quoted  as saying in the media bulletin.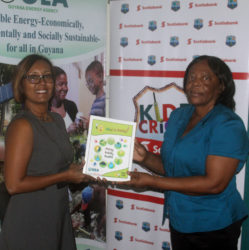 The booklet titled "What is Energy?" was designed by GEA as a means of disseminating information about energy to primary school students between the ages of 9-12, according to the press release. It is divided into four core subject areas, Maths, English, Science and Social Studies, with the aim of fostering discussions within classrooms on energy and energy related issues, and to encourage further learning through an entertaining medium.
Primary schools in Regions 3, 4, 6 and 7 will be identified through the Scotiabank Community Programme to receive copies of the booklets.
Around the Web